Today's work from home series is for those that manage Microsoft Teams. I have two questions for you:
Do you find that your company/organization is running out of your pooled minutes really quickly?

Are you tired of paying for extra communication credits?
You may just simply be blaming the quick increase in "work from home" usage of Teams – more meetings, more phone calls. You're just paying for communication credits thinking it's the only thing you can do right now.
What if I told you there was a really fast way to stop paying for so many communication credits AND it doesn't involve shutting down your Teams meetings or phone calls? This is not a scam or a deal – I'm not selling anything here. There's a simple setting you can check that might save you a lot of money. First, let's cover some background so you understand why this setting matters.
COVID isn't the only reason you are seeing an increase
In November 2019, Microsoft ended their complimentary dial-out capability. For many countries (or 'zone A countries') this means, that beginning December 1, 2019, each Audio Conferencing subscription provides 60 minutes per user per month that can be used to dial out to non-premium numbers. In other words, once those 60 minutes [[ie. a single 1-hour meeting]] has been used, then all out-bound calling is now taken from your pool of PSTN minutes.
You can give users new tools, but it is more difficult to change behavior
Here's the part that might be burning those precious PSTN minutes…did you also know about the feature "Call Me"? This is a well known and loved feature in some of the heavily used conferencing tools that are competitors to Teams, which is why this might feel familiar to your end users. Microsoft describes Call Me as "….giving users a way to join the audio portion of a meeting by phone. This is handy in scenarios when using a computer for audio might not be possible." Seems harmless right? It's a nice convenience when you're on your way out the door and need to join a call, you have the meeting call YOU instead.
Well, those same users that know and love that feature may not yet be used to calling in to use their computer audio even though they are sitting at home in front of their laptop. You know the other reason they use it? They like doing this so they don't have to enter the Conference ID on their phone when they dial in. It's all about convenience! So, they see this handy feature to "call me at" and they have it call their cell phone. Unbeknownst to them – that outbound call is eating up those pooled PSTN minutes after a single phone call. If they had called in using computer audio it wouldn't cost any PSTN minutes at all. If they had used their cell phone to call in to the meeting, it also wouldn't use any PSTN minutes. It's only because of that pesky conference ID. Ouch….
How do I know if this is contributing to our PSTN pool shortage?
There is a PSTN Minute Pools Report (in preview) in the Teams Admin center. If you review this report, it will show you where your minutes are being used.
Teams Admin Center > Analytics & Reports > Usage Reports - then select PSTN and SMS (preview) Usage and select your date range.
According to your PSTN report, anyone dialing into a Teams meeting using a phone and conf ID should not consuming minutes. Those are all listed as conf_in Call Types. Only the conf_out Call Types on the report are pulling from the minute pool. You can easily identify those users from the report if you're looking for more information on why they use that "Call Me" feature.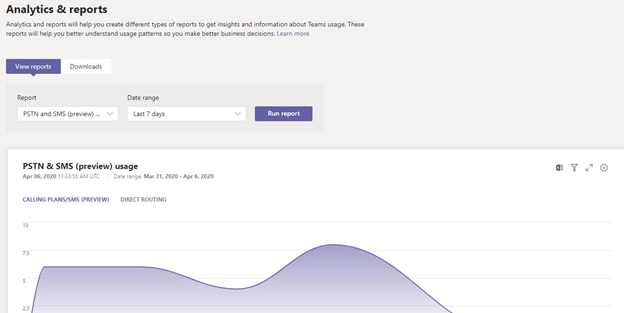 How Do I turn it OFF? Outbound Calling Restriction Policy
If you're confident that during this "work from home" period that you shouldn't need this Call Me feature, you do have the ability to turn it off temporarily without impacting other outbound calls. In the meantime, you can do some training and messaging on why you should only use that feature when absolutely necessary so that you can bring it back once everyone goes back to their normal, more mobile habits.
Note – this is a per user setting, although you can access these settings through PowerShell as well. https://docs.microsoft.com/en-us/microsoftteams/outbound-calling-restriction-policies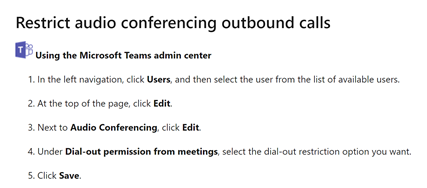 It's all about User Satisfaction
If you're worried about your users giving you grief over giving up their "Call Me" feature, you can let them know that Microsoft is encouraging all of us to join our meetings using computer audio right now due to congestion in the telephony infrastructures. Just let your users know the quality of their calls will likely improve if they call in with computer audio. Then offer to help them sync their Bluetooth headset with their laptop and let them know they can save their cell phone battery for more important things like FaceTime with grandma.

With any luck, your users will come around and do their part to make the most of their work from home experience.
After all, we're all in this together, right?
For more work from home tips, follow our work from home series and Teams shorts.
For understanding on when included in Teams Calling watch our previously recorded webinar on the basics of Microsoft Teams Calling features.