Anyone tired of work-from-home posts yet? A lot of them talk about how to stay productive and focused, which is a great perspective for your employees. What about looking at things from a management point of view? My husband works for a really large organization with a hard core "we don't work remote" policy and yet here we are, creating a second office and trying to hold video conference calls in different rooms at the same time thanks to COVID-19.
What's different between him and I is that I do this all the time! Mark and I manage a team that is spread out across the US – literally from Alaska to Long Island, from Canada to Florida and everywhere in between. I travel a LOT and so I can set up shop just about anywhere and feel comfortable and productive. On the flip side, my husband's team is within arm's reach more often than not. He looked at me across the dinner table last night and asked – How do you keep your team engaged ?
It gave me pause. He's right – it's not just about the technical aspects of working remote, there's a human element. I know someone who said they've really struggled with the COVID-19 news and they admitted they haven't been as productive as they could've been. I personally have the opposite problem – I can easily put in a 14 hour day when I don't have the obligation of leaving my desk to pick up teenagers from lacrosse practice. We have the tools – but what are we doing within our team to make sure everyone is OK? How do we still work and find balance when our schedules and our lives are completely turned upside down?
Mark and I have some tips and tricks from our remote-all-the-time team that should help you out.
Turn on your video cam!!


Don't be shy – we're all sitting at home in our sweatpants and PJs. I haven't worn makeup in about a week at this point. Our team has always been good about jumping on video, but I've noticed we've been using it a LOT more since we've been stuck in our homes. I promise you it will help you feel connected far more than just jumping on a phone call.

You can also make sure your employees are really paying attention in your meeting – everyone is less likely to get distracted if they know everyone can tell they aren't paying attention. I've also made it clear that most of us have kids and we all know they are running around in the background – no need to hide that!
Microsoft Teams Tip: If you're worried about your house or your kids for customer calls, use the background blur feature! https://support.office.com/en-us/article/Blur-your-background-in-a-Teams-meeting-f77a2381-443a-499d-825e-509a140f4780


Schedule Virtual Office Hours and Happy Hours –
My team loves a good 30 minute chit chat. You might argue that it's not "work related" but I can't tell you how many casual happy hours have resulted in better relationships and random conversations that yield productive results. Our latest example was a happy hour for St. Patrick's day. Everyone puts on green and grabs a drink of their choice (coffee, green beer, water …there's no judgement here!).

I also schedule office hours twice a week where anyone can jump on and ask a question and not feel like they are interrupting me.

Just this week our very own "Joy of SharePoint" scheduled a Work Together and posted it into Teams– just keeping each other company and working on our own tasks. What a great idea!
Microsoft Teams tip: People remember to join when they get that push notification on their desktop that the meeting has started!

If you are new to remote technology like Microsoft Teams, explore features like giphys and emojis.
It may seem less serious than your day to day work persona, but it allows you to connect with employees and coworkers at a different level. I've had customers tell me they've learned more about each other through communicating with giphys than they've known in the 5 years they've worked with someone.

Use giphys to give praise or congratulate others
Microsoft Teams tip: If you are nervous about the types of things that can be shared, you can control how formal or casual these giphy options are in your global Teams settings as well as by specific Team.

Increase employee morale with a swag box – then have everyone post to the Team when they receive it!
Everyone on our team receives a 'swag box' at the holidays. We change it up every year with low-cost swag items with our logo – winter hats, stickers, coffee mugs, etc. It shows our appreciation and gives them some swag to rock their PAIT pride.

It's inevitable, once they start receiving their swag boxes, the pictures are posted into Microsoft Teams to show off their new stuff. It may be small, but it helps everyone to know we are thinking of them and appreciate their efforts.
Microsoft Teams tip: Have a "fun stuff" channel where you can post about things that are non-work related!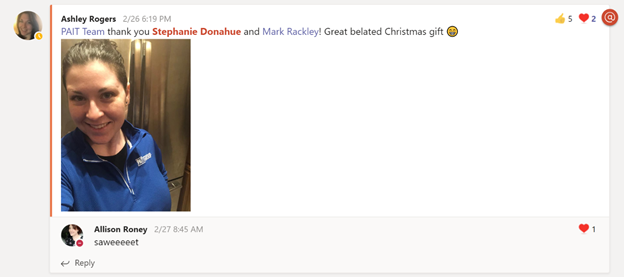 Be Flexible
We implemented a flex time work policy because we know these are unprecedented times where people are working from home with young children. We're trying to cover meetings with those of us that have older kids who don't need as much attention (I haven't seen my teenagers in 6 days other than when they surface for food…) We have also agreed that they can work during nap times, evenings, weekends, with the expectation that 40 hours may not be a possibility right now.

How do we make this work? We use Microsoft Teams. They are generally able to monitor high priority questions because we can @ mention them and it sends their phone a push notification (we also know sometimes a phone call is needed!). Then they can catch up later on focused, threaded conversations in Teams without having to wade through a series of emails. This enables them to be far more efficient with the time they do have.




Microsoft Teams tip: If you're NOT working in the evening, turn on those evening hours to prevent push notifications to your phone while you are trying to sleep or relax. Microsoft Teams follows the Windows 10 Focus Assist settings - https://support.microsoft.com/en-us/help/4026996/windows-10-turn-focus-assist-on-or-off
So there you have it – tips and tricks for keeping morale up across your team. These are challenging times. As a manager, we need to be leaning into our employees to make sure they can have the best work experience possible while making sure everyone keeps their sanity!
Stay tuned on PAIT Group's blog and the Joy of SharePoint webinar for more on this work from home series.