Wow! The interest in modernizing SharePoint Site Architecture has been strong. Thanks to everyone for your comments and feedback on my previous blog post. If you haven't yet read through the Part 1 of Modernizing your Approach to Site Architecture in SharePoint, please see that here. Let's keep the dialog going! As we continue with our story around modernizing our site architecture, we need to address the addition of some new functionality in SharePoint Online called a Hub Site.
Note: Hub sites are now in "Launched" status according to the Office 365 Roadmap. This means they should be available to 100% of the tenants worldwide! It's important to note that Hub Sites are a SharePoint Online "only" feature – they didn't make the cutoff for SharePoint 2019 on-premises release.
What are SharePoint Hub Sites?
The basic idea behind a hub, is that you can share things like navigation, logos, and themes between sites that are similar or related, and then roll up the news and activity from those sites to one place. Consider the scenario that you are rolling out department intranet sites, but want a single landing page where the entire organization can see a rollup of the announcements from each department all at once. (This might be the most common request we get!) Hubs give us the ability to do that without custom code or custom search web parts. If we look at this from an architecture perspective, it also gives us a way to associate or group the sites in our flat architecture, without using sub-sites.
As a refresher, here is the image that Microsoft provides to help us understand this concept: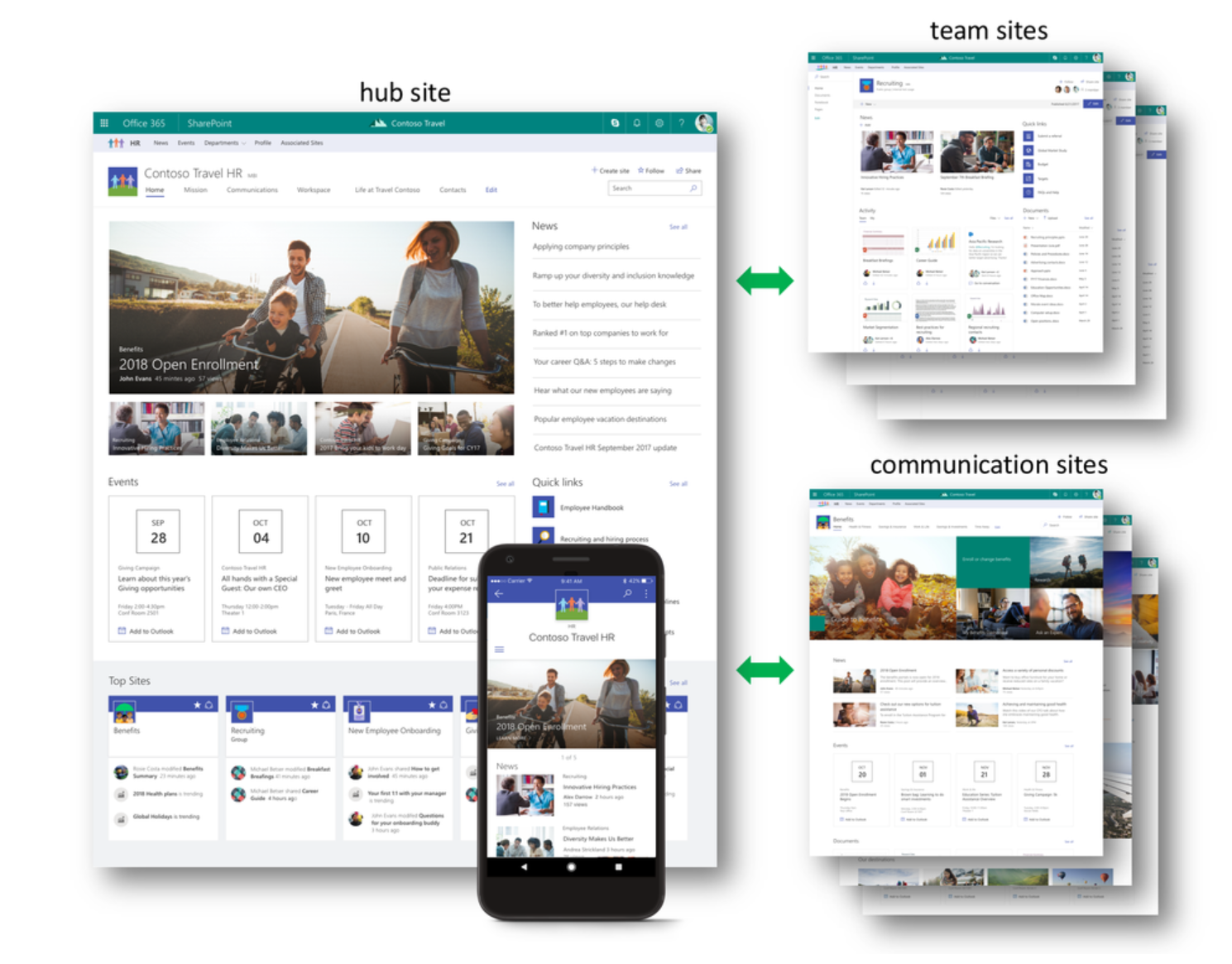 Let's go back to the example diagram in my Part 1 blog and add to it. First, we're going to just create two additional modern sites, and then "hubify" each of them.
Review our new architecture below, it is still flat:

Once we associate sites to that hub, the actual architecture is still flat, but you can think of your sites as being grouped like this.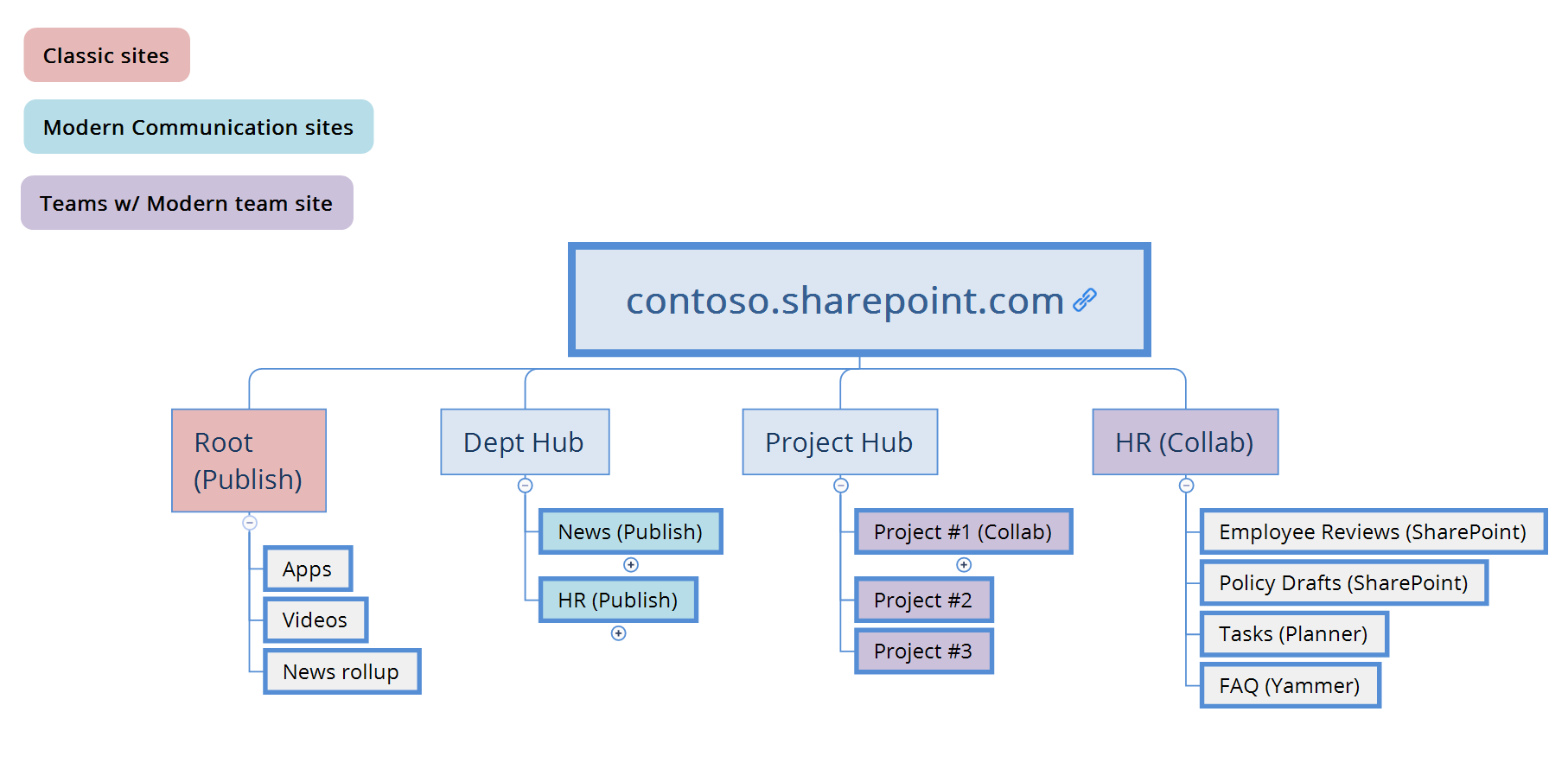 A few important notes:
The sites you add to the hub are still top-level site collections, not sub-sites
While you can hubify a classic site, it is recommended that you use modern sites for your hubs to ensure full functionality and to have the best experience.
It is fully supported to add the modern team site associated to a Microsoft Team to a hub and it does not change the way you engage from Teams. This is great for the scenario of "My VP of Contoso doesn't want to use Teams but still wants to use SharePoint – how do they find the site?" Now we have hub navigation in place on the SharePoint side and everyone can work where they are comfortable.
You can find instructions to hubify here. You can find the steps to add a site collection to a hub here.
What doesn't belong in the hub?
You'll notice that I left the HR (Collab) site out of the Departments hub. This is because that content is highly sensitive. This HR Collab site best functions in a silo because the members of that site are not sharing their content with others, and don't have a need to roll up any information from this site.
Why would I switch to hubs when I can just use sub-sites?
At first glance, you may be wondering why we would bother with all of this. So far, the functionality shared can easily be accomplished with a SharePoint sub-site. However, there are some additional benefits we haven't yet discussed:
Ability to move from one hub to another if your organization changes the way you are structured. Let's say we want to break down the "Departments Hub" and create an "Operations Hub" and "Shared Services Hub". This reorganization happens in companies all the time. We can now reorganize our sites to match our corporate structure, without having to migrate our sites anywhere. Simply detach from the Departments hub and reattach the site to the Operations Hub. Note: One site cannot belong to multiple hubs. You also cannot 'nest' hubs.
Archiving (Retention policy) for Site Collections – how many dead sub-sites do you have laying around in your environment? It's not typically your intranet sites that are the challenge though is it? It's those pesky collaboration sites that our Power Users spin up with the best of intentions and then never use. You should be transitioning those collaborative sub-sites into Microsoft Teams. Use the out of the box retention policies for Microsoft Teams to keep control of your environment. You can find these policies in the security & compliance admin center in Office 365. More information here.
Hubs can help you distribute customizations other than just a theme and logo! We will be writing a blog soon on using Site Designs/ Site Scripts with hub sites. The basic idea is that you'll be able to deploy content types, lists, and libraries simply by adding a site to a hub!
Should I be migrating all my sub-sites into site collections and a flat architecture?
Maybe. But probably not…
Sub-sites aren't going away! There's no reason to panic and move all of your sub-sites into site collections.
You may also have way too many sites at this point to pick through them and separate them each into their own site. That's ok, take the opportunity to take your time and split things out as it makes sense for your organization.
If you are migrating your legacy on-premises site into SharePoint Online, It is still a great time to break down your sites and consider creating more site collections, you just don't necessarily have to convert EVERY sub-site. As with any scenario in SharePoint, you should consider the effort involved and make sure that it makes sense for your organization.
The best part about hub sites, is that if you don't like the way you've organized, you can move your sites around to other hubs! Stay tuned for Microsoft Ignite videos for the latest updates on Hub Sites.
References:
Basic overview from Microsoft: https://techcommunity.microsoft.com/t5/Microsoft-SharePoint-Blog/SharePoint-hub-sites-new-in-Office-365/ba-p/109547
Site Designs/Site Scripts with Hubs: https://redmondmag.com/articles/2018/08/21/sharepoint-online-hub-site-expansion.aspx
Webinar- Modern Architecture for Modern SharePoint: https://youtu.be/btvboOIWYBA