Microsoft Teams templates allow you to introduce a pre-defined structure to Teams across your organization so you can maintain consistency throughout your digital workplace. Having consistency across teams and channels has several benefits for both administrators and end-users, making the Microsoft Teams experience much more enjoyable. In this article, we will be taking a deep dive into Microsoft Teams templates, how they work, and how you can utilize them within your organization to drive a more predictable Microsoft Teams user experience.
First, what exactly are Microsoft Teams Templates?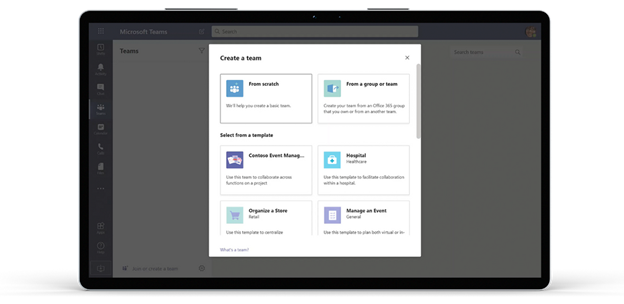 What Are Microsoft Teams Templates?
Microsoft Teams templates provide an out-of-the-box solution to standardizing teams structure within your organization.
Organizations can choose from a variety of templates that can be customized to support their unique needs or to work best with particular scenarios. These templates can be made up of channels, tabs, applications and other settings that can be configured to fit their requirements best.
When users are creating or requesting new teams, Microsoft Teams templates will guide them through the process, making it simple to create new teams that are consistent with existing teams, without requiring support from IT.
Templates also provide many benefits over the existing 'create from group' capability within Microsoft Teams, as it allows users to customize their request to ensure the team they are making is specific to their needs.
How Do I Create Microsoft Teams Templates?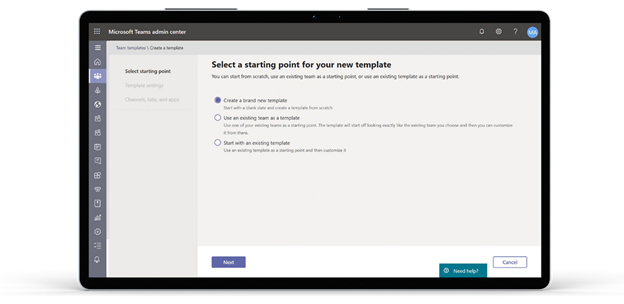 When implementing Microsoft Teams templates, you have a choice between creating custom templates or modifying existing, out-of-the-box templates from Microsoft. No matter what you decide, you can easily create, manage and modify templates in the Microsoft Teams Admin Center.
During the customization process of creating your templates, you will have the option to configure settings, such as channel structure, tabs and applications, to make your template fit your specific needs within Microsoft Teams.
What Are The Best Practices for Creating Microsoft Teams Templates?
When using Microsoft Teams Templates, we recommend following these simple best practices to fully experience the many benefits templates have to offer.
Research and Understand Your Microsoft Teams Users
For Microsoft Teams templates to be a success, they need to support your end users requirements and make creating new Teams as simple as possible. Therefore, it's crucial to understand the needs of your users before you begin creating a Microsoft Teams template. We recommend getting your business users involved in the process early on, so you can be sure to create a template that provides what is needed to structure efficiency, boost collaboration and deliver intuitive ease of use.
Naming Microsoft Teams and Channels
Once you are clear on what your users need within Microsoft Teams, the next step is to create an effective naming convention. The naming of your channels is extremely important because it is what your users will see when they join a team, and provides users with context around what the team is about. To make it as easy as possible for your users, we recommend that you define and implement a naming convention in Microsoft Teams that is clear, concise, and intuitive to users.
To learn more about creating an effective naming convention in Microsoft Teams, take a look at this comprehensive guide to setting up Channels.
Naming Microsoft Teams Templates
Naming is also an important factor to consider when it comes to the Microsoft Teams Templates themselves. Make sure you give your Microsoft Teams templates a name that users can easily understand, and use both the short and long descriptions field for additional context to make it as straightforward as possible.
Naming Microsoft Teams Tabs
Finally, when adding new tabs, change the name so that it references the content displayed within the tab. For example, if you are adding a SharePoint tab, it will be called "SharePoint" by default. Customizing the name to "Home Site", or another name that gives a clear indication of what the tab will show, will make it much easier for users to navigate.
By clearly naming teams, channels, templates and tabs, it will be much easier for users to navigate through Microsoft Teams to find what they need. Following these best practices can significantly improve the Microsoft Teams experience for your end users and drive higher levels of adoption as a result.
What Are The Drawbacks of Microsoft Teams Templates?
Despite the many benefits of Microsoft Teams templates, there are a few drawbacks. These include:
Microsoft Teams Templates are Limited to Microsoft Teams
One major pitfall is that templates are fairly limited, only enabling configuration to Microsoft Teams. This means you can't template other attributes that could be part of the underlying Group, nor can you include Microsoft Planner or SharePoint Sites. This means that even if you use templates to create a consistent structure within Microsoft Teams, you may still end up with inconsistencies and discrepancies throughout other Microsoft 365 applications.
Tabs Aren't Fully Configured
Another drawback currently is that tabs are not fully configured and they are added in their unconfigured state. Unfortunately, this means that users still need to manually configure all of their tabs within Microsoft Teams. In an ideal world, tabs would be fully configured when using Microsoft Teams templates to remove the need for this in the process.
Metadata isn't Attached/Assigned
As more of your organization adopts Microsoft Teams, the number of teams being created and managed will grow. Without assigning or attaching metadata it will be harder to keep track of each team's purpose, which includes circumventing the ever present concern of teams sprawl. This current limitation in Microsoft Teams templates makes it harder to organize and keep track of all your teams effectively.
How Can I Build Smarter Microsoft Teams Templates?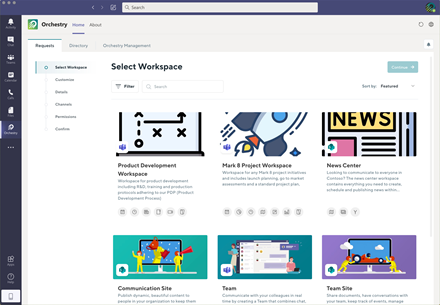 Thanks to creative solution providers, there are smarter, more efficient and more complete ways to build Microsoft Teams Templates, such as our solution partner, Orchestry. Orchestry builds beyond the basics Microsoft Teams templating, by enabling Microsoft 365 Administrators to:
Template Microsoft Teams Tabs: by intelligently cloning Microsoft Teams tabs across any tab type
Standardizing Microsoft Teams Naming Policies: through advanced naming policies governing teams, sites, groups and SharePoint URL construction.
Templating Owner & Member management: configuration of default owners and members for Microsoft Teams and SharePoint Sites mean no workspace goes unmanned when employees leave an organization.
Standardizing Workspace Approval Workflows: by defining approval processes for each Workspace type (i.e. team, site, hub) to tame sprawl.
Templating Custom Metadata: by providing the ability to create metadata specific to your organization will organize and define each team, site or group.
Templating Microsoft Planner Plans: by delivering ready-to-work teams to include buckets and tasks.
Templating SharePoint Sites: through providing full support for SharePoint Communication Sites and Microsoft Teams Sites, including lists, libraries, pages, webparts, document templates and further configuration options.
Templating OneNote Files: by fully supporting OneNote file templating, including tabs and sections.
Templating Microsoft Lists: by fully supporting any number of Microsoft Lists templating.
Templating Enhancement Suggestions: by enabling suggestion of commonly used features, documents, users and channels when creating templates.
Templating Custom Document Templates: by attaching document templates (i.e. PowerPoint, Excel, Word, PDF, etc) with Teams & Site Templates.
Orchestry also delivers a number of pre-built Workspace Templates for Microsoft Teams and SharePoint Online that save you time and resources, while eliminating the drawbacks of out-of-the-box Microsoft Teams template options.
If you want to learn more about Microsoft Teams Templates and/or how our partner Orchestry may be a solid third-party solution connect with our team and schedule a meeting. We would love to show you how Teams Templates can drive further adoption of Microsoft Teams and Microsoft 365 throughout your organization.