It's October 3, 2023. I am sitting at my PC, waiting as the digital meeting equivalent of "hold music" plays. According to the graphic on the screen, the Q&A session should begin momentarily for the "Microsoft OneDrive: The Future of File Management is Here" event where Microsoft just unveiled the 3rd major version of OneDrive to the public. The main presentation is over, and while I wait, I'm digesting the latest announcements and changes that were unleashed upon us.
I am going to admit it, I feel a little anxiety here. Remember, this is reporting live from the front of the file management experience. I have years of experience with Microsoft 365, and I am suddenly seeing barriers that I spent a lot of time understanding starting to disappear. I have told customers for years, "OneDrive for 'Personal' Content, SharePoint/Teams for group or collaborative content." After today, however, it seems that OneDrive is evolving and moving into a more central location for work with your content everywhere in M365. The content can all be created and shared from one place, but it looks like you can easily place it wherever it needs to go.
I won't attempt to take you through a comprehensive demo as completely as Microsoft will in the multiple presentations they will undoubtably be providing in the coming days, but I will be presenting a BRAND NEW bit of content here! It just got demoed live, in front of me!
Editor's note: the URL provided in the following paragraph was working at the time the article was written, but Microsoft appears to have since broken it. Please go directly to your OneDrive for Business account via your usual method. I am not sure if/when Microsoft will have this URL working again.
To start exploring, go to https://onedrive.com and make sure you are logged into the page using your preferred account, either by logging in when prompted or checking in the upper right-hand corner, where you may be logged in with a personal account, work account, or even one of your several work accounts depending on your situation. For the moment choose your primary work account.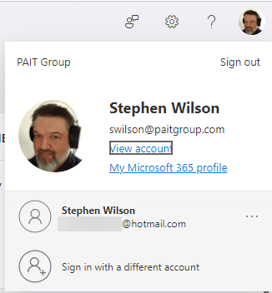 Now I am in my actual work OneDrive. I have too many customer files to take screenshots (privacy reasons and all), but as soon as you log in you may be... disappointed?
It looks pretty much like OneDrive. Where is the wonderous new thing you wanted? Relax, I didn't bring you here to disappoint, look on the left side of the OneDrive home.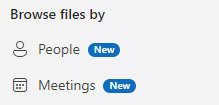 New Stuff! If you click on "Meetings" it will show you your meeting recording and files attachments from meetings you've attended! Not just recent meetings either, it goes back a few years for me with no prep or work on my part. I can even filter by meeting name. That may make a few things easier.
If I click on "People," I see individuals I have conversed with through Teams and the files we have worked on together. There are some people I see on this list that I know I haven't spoken with in over a year, but there are the documents we collaborated on, lined up and ready to go.
If I click on the "Shared" option, which doesn't seem to be new, I see a list of files I have shared and files people have shared with me, but in this presentation, Microsoft told us it can assist with correcting issues from oversharing files, so that's neat. The "Favorites" option was demoed to show me how to use it to make files available more quickly. As the presenters were talking through all the new features, they discussed how the new Copilot and Syntex come together to make this experience work.
As I click through the various areas of my OneDrive, I am noticing this also seems way faster than it was before. Moving from section to section doesn't have the lag it used to, files in Word and Excel are opening faster, more smoothly. They even showed a new "Open in app" function that lets me open non-Microsoft files in desktop apps directly from the OneDrive page! They just demonstrated opened a CAD file in a desktop program. Now that is cool. I need to look into that one a little more to see how well it works; it could be important for some of our customers.
There was even an announcement about creating folders to group files together to make working together easier. Some AI integration will try to helpfully suggest other related files that might be beneficial for including in your folders. You can even create shortcuts to files in OneDrive so content can live in one place but easily be referenced from another folder. They even showed how you can change the color of a folder and people who have access to that shared folder are still able to see the selected folder colors.
Administrators weren't left out in the cold either. They mentioned that links, accounts, and content can be migrated to different tenants if your organization just went through a merger, with a simple PowerShell command. A user's OneDrive content can be automatically migrated to the new tenant, and best of all the shared links are supposed to still work as before. And on the security front there are a lot of controls for making sure files in your organization are shared only with the people who should have them, and make sure your users aren't sharing things they shouldn't.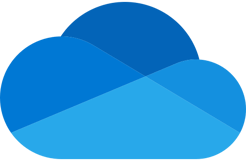 Well, I'm still sitting here, waiting for the Q&A session, which still hasn't started. I don't think there's going to be a Q&A. I guess that means the presentation is over. All in all, Microsoft announced a lot of new enhancements and quality of life improvements that seem to address a variety of pain points that users have had about OneDrive for a while. The new media view and face grouping seem like it could be useful for photos when it launches next year. I think I need to roll this presentation back and rewatch a few things. They covered a lot of new information in a short time. More likely, I will need to be on the lookout for more information about the new OneDrive features for a while. Maybe I will see you there. Looks like exciting stuff is coming!
As always, reach out to us here at Pait Group and we'll be happy to help clear up any confusion and help you sort through all the latest and greatest offerings of Microsoft 365, SharePoint and OneDrive.