Happy August!
I know several parents of school-aged kids are happy because the kiddos are heading back to school soon. Perhaps that's part of why August is Happiness Happens Month. Did you know that was a thing? I didn't until I started looking at the variety of National days and observances in August, for a little marketing inspiration. This caught my eye and I immediately started writing.
Happiness Happens Month was started by a group called the Secret Society of Happy People, founded by Pamela Gail Johnson in August of 1998. She and her society wanted to encourage people to embrace happiness in every form and to help others not feel the need to suppress it when they weren't sure how to express those feelings.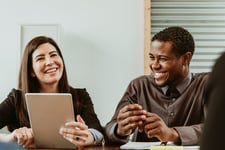 I'm sure by this point, if not sooner, you're thinking, "What does this have to do with Microsoft 365?"
EVERYTHING! Or at least a lot. I did a quick search and I've found that about 1/3 of human life is spent working. One third, folks. So, if we're spending one-third of our life working, we need happiness at work.
Wellbeing in Microsoft 365
Microsoft has made great strides in building well-being tools into their M365 application platform. I'm constantly impressed at the care they have for employee wellness. We see it highlighted in Viva Insights features such as daily reflections tracking and Praise. Viva Engage will bring enhanced employee engagement features to Yammer, drawing in employees to connect on a greater level.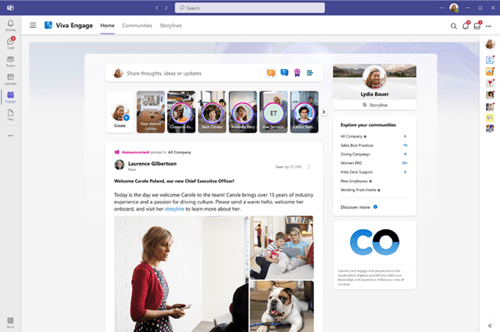 I also see the effort to make work-life better in accessibility features across M365, as well as enhanced productivity capabilities in Microsoft Teams such as Excel Live, and collaborative annotations. As I wrote in a AvePoint blog recently, "Cities, states, and even oceans may separate us from our coworkers, but the powerful collaboration tools Microsoft is continuing to develop and deliver allow us to remove the distance and engage securely."
Feeling connected enhances wellbeing. This sounds a little fluffy to some of us but it's vital to a healthy, productive, and happy workforce.
So, what are you waiting for? Log into Teams now and share your favorite .gif with your community and celebrate Happiness Happens Month!