My Links
New from Pait Group!

Your Ultimate Link Management Solution

Discover a better way to manage your links!

Frustrated with the hassle of disorganized bookmarks and lost URLs? Meet My Links, the comprehensive link management solution that enhances your digital workplace experience. Crafted to seamlessly integrate with SharePoint Online and Microsoft Teams, My Links offers unmatched versatility and personalization to simplify your digital journey.
Features
🔗 One-Stop Link Hub: No more hunting through browser tabs or emails for important links. My Links offers you a centralized hub to store and manage all your crucial URLs effortlessly.


🎨 Personalization at Its Best: Your links, your way. Tailor your collection with personalized links, color-coded for instant recognition. Finding what you need has never been this intuitive.


🏢 Enterprise-Grade Efficiency: My Links doesn't stop at individual use. Seamlessly integrate enterprise-level links managed by your organization, ensuring everyone stays on the same page.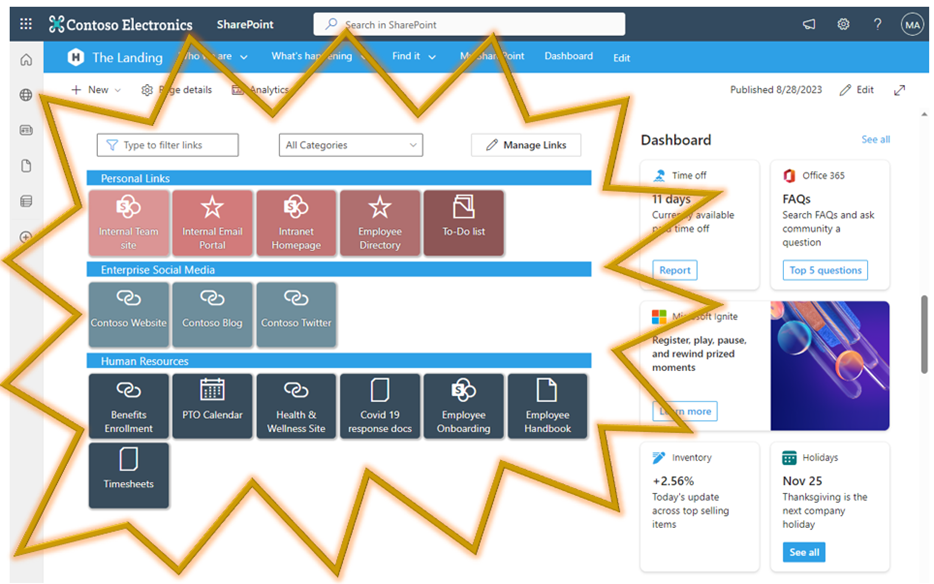 🔒 Security with Precision: Control is key. Define who sees what with security groups, granting specific access to certain link sets. Tailor accessibility, whether it's your HR team or development wizards.


🗂️ Organize Your Way: Categorize your links for effortless organization. Swiftly sort by themes or projects, keeping your digital life neat and tidy.


🏷️ Branding Harmony: Make My Links your own. Color code your links to match your organization's branding, a small touch that adds a dash of visual unity.


📱 Responsive, Everywhere: My Links adapts to you. From desktops to mobile devices, enjoy the same smooth experience, no matter where you are.


🔍 Find, Faster: Our search filters make locating specific links a breeze. Name or category, pinpointing what you need takes just a few clicks.


🔲 Choose Your View: Customize your perspective. Select between tile and list views, letting you interact with your links in a way that suits you.
Unveil the future of link management with My Links. Streamline your digital world, from individual links to enterprise-level resources. Experience effortless organization, intuitive personalization, and enhanced collaboration. Elevate your web browsing – try My Links today!
More information
We're excited to share My Links with you! Fill out the form below and we'll be in contact with pricing information and purchase instructions shortly.
Ready to see how Pait Group can Transform Your Digital Workplace?
Get in touch and let's make some intranet magic happen!