I admit, the first time I took a look at PowerApps I was quick to dismiss it. The anointed InfoPath replacement tool had a less intuitive interface than InfoPath, you couldn't really do anything to style the forms, and the formula language was just something I wasn't prepared to deal with.
It was a hard pass for me.
With all the expectations placed on PowerApps early on and with so much power and extensibility to create forms using my free SharePoint forms tool StratusForms I just honestly did have much use in the SharePoint world for PowerApps.
That was then…
Fast forward to the beginning of 2019.
We have a client who we were in the process of helping migrate from Classic SharePoint On-Premises to Modern SharePoint Online. This client had a SharePoint Site with a couple of lists to help security guards check people into their lot. No big deal? Right. They had one list for the users that were expected to be on the lot that day and another list for people that arrived on the lot that day. It all worked "ok" for them, but it was very "SharePointy" if you know what I mean? And anytime they hired a new security guard there was always that learning curve to teach an often non-techy person how to navigate and use the system.
But hey! We were moving to SharePoint Online! Now's our chance to modernize their experience using Modern List views, View Formatters, and maybe a Flow or two…
It did NOT go well. The guards were used to classic SharePoint and hated the change. It's not that it was a bad experience. It looked nicer and for the most part there were fewer clicks, but some nagging items prevented them from getting the most out of the experience, and they still had the issue of training people to use SharePoint, but train them while they were still learning it themselves… there had to be a better way…
The Challenge
Slightly frustrated by the stubbornness of users to change (I know, crazy right?) I thought about some of their complaints:
Having to navigate to different list views to see different information

There were 3 main lists the security guards had to work with to determine who was expected to show up, who's on the lot, and who's forbidden to come on the lot.
Because of the limitations of column and view formatting at the time, these list views could not co-exist on the same page at the same time, so users had to click between multiple lists.

Having to manually start a flow from a list view.

We were using Microsoft Flow to enable all the pieces of workflow that needed to happen when an expected visitor arrived on the lot.
Guards hated the experience of clicking a flow icon in the list, only to then click on a button to start the flow from the slide out panel. It was just too many steps, and way too clunky.

Finding information in the lists

With three lists to look through and Modern SharePoint search not able to effectively fit the bill in this situation it was painfully slow to find a specific person to check them in, check them out, or find out they should be there at all. And with a constant stream of traffic, speed was essential to happy users and to prevent frustration all around.
PowerApps: Take 2
Now, there are probably about 300 ways to tackle this problem in SharePoint ranging from simple to complex. We had a limited budget though and need to get something done quickly.
I was actually sitting at the MVP Summit in Redmond, Washington earlier this year when all of this was occurring and as part of that visit, I was going to be talking to Chris McNulty about Business Applications in Office 365. I thought this would be a great way to have an intelligent conversation around why I can't use PowerApps for some scenarios... you know… constructive feedback… rub it in his face really good…
Okay.. maybe that's not really my mental thoughts on it, but it makes for a good story. I did have PowerApps on my mind though, and it had been a while since I personally tried to develop anything with it, so I decided to dig in and see what I could do with almost no training and very little experience using PowerApps.
So, long story short. Within 8 hours I had a fully functional prototype of the application where security guards could easily see and search from one screen across the three SharePoint lists from searching in one search box by both name and license plate number. With one click a guard could check someone in or check them out and they even had the ability to easily create new entries as needed. The check in / check out process executed Microsoft Flow's that would update statuses and calculate time on the lot that was used for billing. And it was all in one interface.
I'll never forget the experience when we decided to show the PowerApp to the main security guard. He was not happy. "You mean I have to learn how to use something else????" but we finally convinced him to take a look at it, and in less than 30 seconds he was like "oh wow! Nevermind, this is so easy. No one needs to be trained on this." They loved it… and they continue to use the application to managed thousands of vehicles entering and leaving their lots daily.
My attitude about PowerApps had changed.
So, Why is PowerApps Better now than it used to be?
Like I said, when PowerApps was first released I just couldn't get behind it and recommend it for most tasks in SharePoint. It was too limited in functionality, it's integration with SharePoint was poor at best, and the formula language just didn't make sense. However, since then ALL of those issues have greatly improved. Such as:
With visualization Improvements and the ability to create/format list views, we were able to create an interface that was easy to read and understand. We were able to display content from multiple lists and one time and provide a single point of search to search all three lists instantaneously. I was also able to "brand" the forms much more than I had thought would be possible.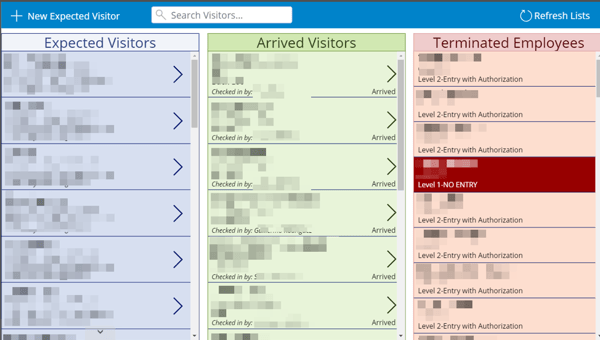 Because of the maturity level of PowerApps, we no longer have to struggle how to figure out how to simple or even complex tasks. The online resources are light years ahead of where they used to be, and if you can think of it, you can probably do it. I found a TON of great information at the Microsoft PowerApps Community Site https://powerusers.microsoft.com
Because we were using SharePoint with PowerApps and our same SharePoint lists we were using before, we were able to re-use all our Flows we had created previously… and pretty seamlessly. No longer did users have to deal with that Flow slide out panel, they could now just click a button and have it behave like they wanted it too..
And all of this literally took like 8 hours… Sure, this is a pretty simple PowerApp, but come on… to get that kind of user reaction, to solve that big of a business headache, and for it to work so… dare I say without issue? I'm officially a PowerApp fan…
And you should be looking into PowerApps too… at least give it a second chance. Especially if you were a hater like me.
It's come a long way baby..
What about the 600 pound smelly elephant in the room that is InfoPath?
Still using InfoPath? STOP IT! Shame on you if you are still using InfoPath, especially if you are in SharePoint Online… SHAME!! InfoPath IS going away… it's not modern… it's not responsive... and there are SO many InfoPath alternatives out there... if you are still creating forms in InfoPath you… I… I can't even look at you… stop it… you are creating technical debt that your great grandchildren will be paying for… and finally, PowerApps is to a point where you really can give it a serious look for your form needs, and with things like the Data Gateway and Flow you CAN connect to your on-Prem data pretty seamlessly… It's really a whole different world if you've not bothered to look at PowerApps and Flow lately.
So, stop.. back away from InfoPath… determine a strategy for converting your critical forms off of InfoPath into PowerApps and maybe sunsetting some of those forms that no-one really uses. Set yourself up for success NOW! Don't be scrambling in a few years wondering where all the time went.
Don't know how to get started?

Need some help converting off of InfoPath?

Want to know more about PowerApps??
Please feel free to give me a shout or one of the other awesome folks at PAIT Group and we'll get you sorted.