Have you been trying to keep up with where you can find some of PAIT Group's Team members?
Here is a list of where you can find them. In addition this list will include discount code should our members be presenting at a conference you are seeking to attend. I suggest you bookmark this page as I will be updating this list as new details become available.
---
North American Collaboration Summit - (NACS)- Branson, MO - April 2 - 3, 2020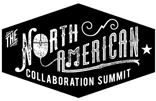 You will find
Stephanie Donahue
,
Mark Rackley
,
Rob Windsor,
and
Ashley Rogers
presenting a variety of different topics.
SPECIAL DISCOUNT OFFER - Enter the discount code PAITGroup to receive $50 off.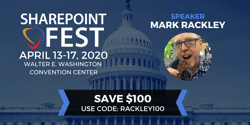 ---
SharePoint Fest - Washington, DC - April 13 -17, 2020
You will find

Mark Rackley.



---

SharePoint Conference - North America - Las Vegas, NV - May 19-21 2020


You will find Stephanie Donahue and Mark Rackley

TWO SPECIAL DISCOUNT OFFERs - Enter the discount code DONAHUE or RACKLEY to receive $50 off.
I have a feeling there is going to be an internal competition on which code gets used more ... 😜

---
European Collaboration Summit 2020 - Wiesbaden, Germany - June 8 -10, 2020
You will find Mark Rackley present:

It's time to modernize your company FAQ with a No-Code bot in Microsoft Teams
---
SharePoint Saturdays, Microsoft 365 User Group events, and MORE:
Collab365's GlobalCon1 March 2-6 (virtual conference)

You will find Ashley Rogers speaking on HTTP and Power Automate

SharePoint Saturday Omaha - March 21, 2020

You will find Joy T. Apple (aka Joy of SharePoint)

SharePoint Saturday Houston - April 18, 2020

You will find Ashley Rogers AND Joy T. Apple (aka Joy of SharePoint)

You will find Joy T. Apple (aka Joy of SharePoint), Ashley Rogers, and Mark Rackley