As each year passes we make a list of personal resolutions, things that we aspire to change about ourselves. Whether that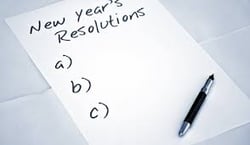 be to improve our eating habits or try something new and break out of our own comfort zones. Resolutions aren't designated for personal use. They can and should be applied to the workplace. Here are three suggestions for you to bring back to your organization with the overall focus being to transform the Digital Workplace environment.
1. Make Change part of the Improvement Strategy
As human beings we are inherently uncomfortable with the subject of change. However, when you embrace change it becomes part of the of the process. The key behind acceptance of change is to allow for flexibility within planning and implementation. Make sure all key players are in sync in how and when to address change. Being on the same page is of top importance.
2. Research And Plan Before You Implement
Should a move to the cloud be in your near future, it is wise to spend a fair amount of time getting to know what you may be in store for. Be aware of the highs and lows of what is to come. Acknowledge and accept that this new world is just that new and not going to be the same as what you are used to. Then take this information and sketch out what this new world will look like. Remember it should be different than what currently exists. You wouldn't want to try and fit a square peg in a round hole.
3. Don't Be Afraid Of Asking For Help.
There may come situations where you find that you are in over your head. It happens to all of us. First accept the fact that you are in this situation. Next, reach out to experts for help. This is where expert consultants like the ones at PAIT Group come in to provide solutions to where you are stuck and maybe another point of view on how to improve with the goal of successful user adoption.
PAIT stands for Powerful Alone, Invincible Together. Transforming the digital workplace by delivering quality Office 365 and SharePoint Solutions. Find out more about PAIT Group and how to we can help you in your organization's digital transformation.