I'll confess something to you guys: I love whiteboards. Love them. I'd have every wall in my office be a whiteboard if I could… actually, this may happen one day. For me, there is no better tool to use for architecting out SharePoint web apps/tenants, site collections, and sites than a whiteboard. Need to plan out a business process or workflow? To the whiteboard!! Security not working smoothly? Draw it out on the whiteboard!
Yesterday, I had the opportunity to attend a Microsoft Roadshow in Oklahoma City and the topic was the Surface Hub. Oh. My. Goodness. It's a whiteboard with an infinite canvas. You can draw in various colors of ink, pinch or stretch the size, scroll to the left, right, up, down… as much as you need! All while broadcasting this over Skype for business, if you have remote folks who need to be involved.
You can also use this marvelous piece of hardware to display any content from OneDrive, the Edge browser, even a thumb drive, and annotate it on the Surface Hub. Think of being able to throw your PowerPoint presentation on a whiteboard and annotate it, live and on the fly! Wat about snipping out a graph in that presentation, moving it to your whiteboard canvas and marking it up as you discuss its various data points in your meeting?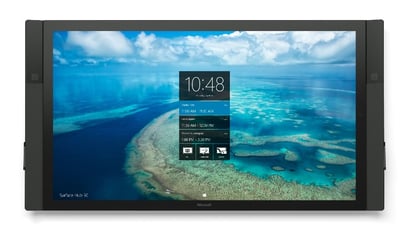 The Surface Hub comes in 2 sizes: 84 and 55 inches. It has 2 cameras, one on either side, that automagically focus on and track the presenter to make sure any remote viewers are seeing the best possible view. There are also has speakers across the top to capture sound.
Surface Hubs are set up with accounts by your IT department. That account is then invited to meetings, just like other attendees or perhaps conference rooms. The image above shows he Welcome screen that displays when the Hub sees that someone has approached it. If you're about to start a meeting, all you have to do it touch the meeting tile to launch it. If you and your team are having an impromptu meeting, simply open the Skype for Business app and get started, just like you would on your Windows 10 PC.
The whiteboard functionality is actually a locked down version of OneNote. It's simply there to be your canvas, and boy is it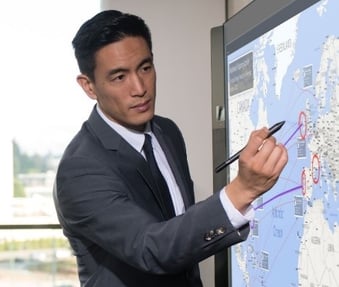 a remarkable canvas! One of the demos I repeated after the session I attended was to snip a section from a web page, courtesy of the Edge browser, and paste it onto the whiteboard. I was then able to annotate and manipulate the image. The process was fairly intuitive and the gestures felt natural after a couple of minutes.
The Surface Hub supports three pens at once or 100 touch points when in finger mode. While it's highly unlikely a meeting would require 100 fingers simultaneously drawing on the whiteboard it does go to show the powerful responsiveness of the device. But hey, it's a fun mental image.
It's worth noting that the Surface Hub cannot run 32 bit apps. Not to worry though; you can connect your laptop to the Hub via Mirror Cast or the old-fashioned way, with cables to display those apps.
Over the years, different products have been launched and touted to "revolutionize meetings." Skype for Business has been a huge improvement for handling meetings with remote attendees and making communication quick and easy if an actual meeting isn't needed but I wouldn't go so far to say it has revolutionized meetings. They're still mostly boring. The Surface Hub truly does change how meetings flow; even how they are approached. Most importantly; it brings the opportunity for meetings to be engaging, creative and productive… and did I mention wicked cool?
I've only mentioned a handful of features and functionality that the Surface Hub brings to the table. You can get the full scoop here.
For one-on-one or group training for the Surface Hub, please feel free to contact us here!