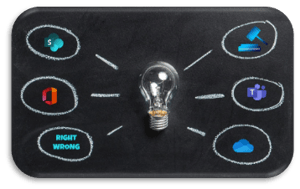 As I was watching my new favorite Star Wars series the other day I once again heard the phrase "This is the way." This time the phrase stuck with me and got me thinking about SharePoint intranets and best practices.
Best Practices. It's a phrase in our industry that's used day in and day out: There are best practices for permissions, architecture, document management, collaboration, communication, rollouts, user adoption; the list is long.
It's not at all uncommon for clients to ask, "What are Microsoft's best practices for…?" It's a great question because we do want to know the best, most efficient, practical, commonsense way to deploy, use, and manage Microsoft 365 technologies. My colleagues and I will lay out the best practices for our clients then reiterate them with the reasons why and past experiences (both good and bad).
I have also heard many business users/IT leaders say, "This is our best practice." Now and again that's great! The corporation has a standard, a way they do things. Governance. Usually it's not great. Particularly when it means. "We know Microsoft says we should/shouldn't do "x, y, z" but we're going to do it the way we like anyway." Yikes.
In some situations, the applications and processes are so new to a company that there's not a foundation of experiences with other Microsoft products to pull from. "Where do we start?" It's not even uncommon for a company to deploy SharePoint without having an understanding of how SharePoint really works. It's seen as a replacement for the file share and treated as such. Rarely, if ever, does that work well so folks start scrambling to figure out what exactly they've invested in.
The Mandalorian Way has inspired me to launch a series on best practices. Guidance for when to use what, how, and why. Microsoft does offer a vast amount of information on how to use applications in the M365 ecosystem but there isn't always a clear-cut best practice in black and white for us to follow. Many times, we need to take the best practices that have been given and apply the same logic to our individual needs and circumstances. Sometimes it's easy; sometimes it's not.
My goal is to break down not just the "Microsoft hath sayeth" best practices but also situations, circumstances, and the concepts behind the tools and applications in Microsoft 365, particularly the Office 365 collaboration suite. It's there we so often find ourselves stuck and wonder what the best path through it would be, not to mention how to even get started.
If you're new to Microsoft 365, welcome! We have a great collection of communities, focused around the various products, that seek to help, educate, and support. This is the way. I encourage you to check out the SPSevents site to locate amazing SharePoint and M365 Saturday events. They're free, fun, and educational.
We're in this together and through both my Joy of SharePoint webinar and PAIT Group blogs I'll share with you my experiences, success, roadblocks, and the fun of navigating the Microsoft 365 galaxy.
Part 2 of my This is the Way series will air February 26th at noon eastern!

There you were, minding your own business, for the business, and now you're the SharePoint person.
You weren't trying to be a dotted-line IT report. It just happened! You helped figure out some problems with your department's SharePoint site, now you're the go-to.
What do you do next? Where do you start?

Ashley Rogers will be joining me and together we'll share with you the Top 5 Tips and Tricks for Accidental SharePoint Professionals.


This is the way...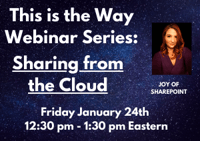 My first This Is the Way webinar/blog will focus on Sharing from the Cloud. We work so hard, spend time and money to get our content into SharePoint, Teams, OneDrive… why? What's the point? How do we teach our business users and coworkers how to break old habits and reap the benefits of Office 365? Come Join me on January 24th for the first part of this series, Sharing from the Cloud. It is more than just changing how we e-mail.

I have spoken.