October 13, 2020 SharePoint 2010 EXTENDED support will end. It was a good run, but it is time to put the workhorse out to pasture.
UPDATE! On April 4th 2020, in response to the COVID-19 crisis and an increase in customer requests, Microsoft announced they will be providing Extended Support to SharePoint Server 2010 products and technologies until April 13, 2021 instead of the original cutoff date of October 13, 2020.
Click here for more information.
6 months isn't a lot of time when it comes to migrating, modernizing, and refactoring TEN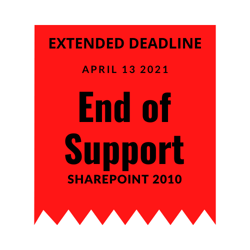 YEARS of technology. It is unlikely you will be able to just dump everything over in a weekend and pick up running Monday morning. If you still have SharePoint 2010, do you have the staffing to successfully install a newer version? Have they been patching SharePoint 2010 regularly? If you anticipate it not being a big deal, why hasn't it been done yet? SharePoint 2010 has been out of mainstream support since 2015, so what has held you back? Remember, this is happening worldwide. Within about 6 months every organization using SharePoint 2010 has a strong need to get out, and every organization that has experience assisting people with this transition is likely to be pretty busy.
What does this mean for you?
No security updates will be developed or released after the end of support.
Operating systems supporting SharePoint Server 2010 will have reached or are rapidly approaching the end of their mainstream support.
With SharePoint 2010 still in place you may no longer comply with a host of standards and regulation. For example, lack of compliance with Payment Card Industry (PCI) Data Security Standards might mean companies such as Visa and MasterCard will no longer do business with you.
Lots of decisions to make.
Move to a newer version of SharePoint? SharePoint Online, maybe? Go the easy route and dump it all in a file share (on a server that isn't approaching end of life)? That would mean no workflows, no online forms, no search.
Maybe those things no longer bring you joy and your life coach has advised you to declutter your technology?
Get a jump on it.
If you don't already have a plan for moving your SharePoint 2010 content to something else, hopefully something better, now is the time. If you think it's a weekend project, I recommend trying it as soon as possible to be sure there are no bumps. If it turns out to be bigger, you will be glad you failed early. If you end up needing some help? Well, you've found our website.