I woke up the morning of July 1st to the email I will now be anticipating for hopefully years to come.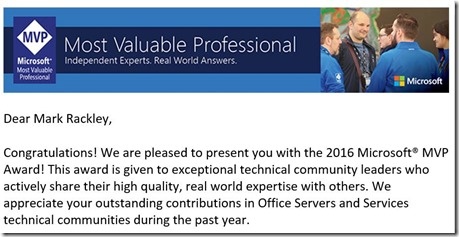 This was my first MVP renewal and even though I had no reason to believe I wouldn't be renewed there's always that "what if…" in the back of my mind. I'm grateful to Microsoft for giving me the opportunity to be an MVP for another year; to learn and hopefully grow, and to add more value to the community and my clients.
Now that I've been an MVP for a year I have a much better understanding of what it means to be an MVP and what it means for our clients. So, what does it mean to be an MVP? I realize I'm still a noob at this, but here's what I've learned in a year.
Being an MVP helps me guide client decisions
One of the first things an MVP has to do after accepting the award is sign an NDA with Microsoft. That's because we are now privy to information that the general public is not. This is probably the biggest benefit of being an MVP. I may not be able to tell my customers and clients what's coming, but I can help guide their decisions so they are prepared for what's next.
For instance, MVPs are invited to the Microsoft campus at the end of the year for the MVP Summit. This is a great opportunity to meet MVPs from around the world and meet with various product groups as they show us what they are working on and get our feedback. Based upon last year's MVP Summit, MVPs were able to steer clients away from trying to develop their own SharePoint mobile apps because we knew one was coming. We can't always tell you WHY you need to wait, but we can help you avoid wasting money developing something that will be addressed in the near future. That's pretty valuable if you ask me.
Being an MVP means being part of an awesome community
MVPs are awarded based upon their expertise or contributions in a specific technology space. For instance, although I was awarded an MVP for "Office Servers and Services" my expertise is in the SharePoint and Office 365 space, specifically around designing awesome solutions in SharePoint. If you are working with (or going to work with) an MVP, get to know them and find out what their specialty is. What's great about this, is that I'm now part of an awesome MVP community where I get to build relationships with other MVPs. This is a huge benefit for my clients. I may not be an expert on Power BI, but I can pick up the phone and call my good friends John P White or Jason Himmelstein and get my clients not only an answer, but the best right answer.
Being an MVP means greater responsibility
As Microsoft MVPs, it's important for us to watch what we say and what information we communicate. Although we don't speak for Microsoft, we are seen to have more authority. Our words do carry more weight in some circles and it's important to not speak in haste or too quickly. We have to be careful to not divulge confidential information. We have the added responsibility of being critical when necessary with Microsoft without bashing them, to bridge the gap between what Microsoft is doing and what the community at large sees. As a natural pot stirrer I have to be careful with my stirring at times. I may or may not have stuck my foot in my mouth in the past year being too critical, but hey, it's a learning experience. I'll always be honest in my opinions though and if I consider something a bad decision I now have an avenue to address it that has a greater chance of seeing results.
As you can see, being an MVP is about a lot more than just getting an annual trip to the Microsoft campus and hanging out with other MVPs. It's about having a voice at Microsoft, guiding my clients in the right direction, and having access to experts from around the world. It's truly an awesome group of people and I truly am honored to be a part of it for another year.
To Microsoft, I thank you for the renewal; To the community, I thank you for reading my blogs, attending my workshops/sessions, and interacting with me; To my clients, thanks for putting your trust in me. I'll do my best to not let you guys down in the following year.