PAIT Group is pleased to announce a new partnership with BinaryWave—the brains behind SmartTrack for Microsoft SharePoint Server.
Our clients can now expect to utilize SmartTrack, the first and only operational intelligence solution for Microsoft SharePoint, for "real-time application monitoring, event management, an operational health metrics for Microsoft SharePoint."
What is it?
SmartTrack is a SharePoint health monitoring system that gives you critical information regarding the overall health and operational stability of your SharePoint farm in real time. It runs on SharePoint 2007, 2010, and 2013, as well as WSS and Foundation free versions.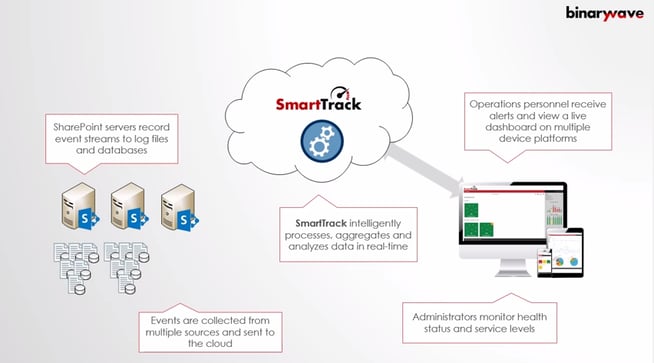 This infographic shows how SmartTrack utilizes its technology to help your team identify and address issues and support business critical decisions. Source
How does it add value to my organization?
SmartTrack prides itself on the following:
-Troubleshooting reduction time
-Increased efficiency
-Improved user satisfaction
-SLA's met or exceeded
SmartTrack focuses on three key factors—visibility, insight, and actions—to get a real-time pulse on just exactly how your SharePoint farms are behaving anywhere, at any point in time.
Here is an example of what their metrics can do for you: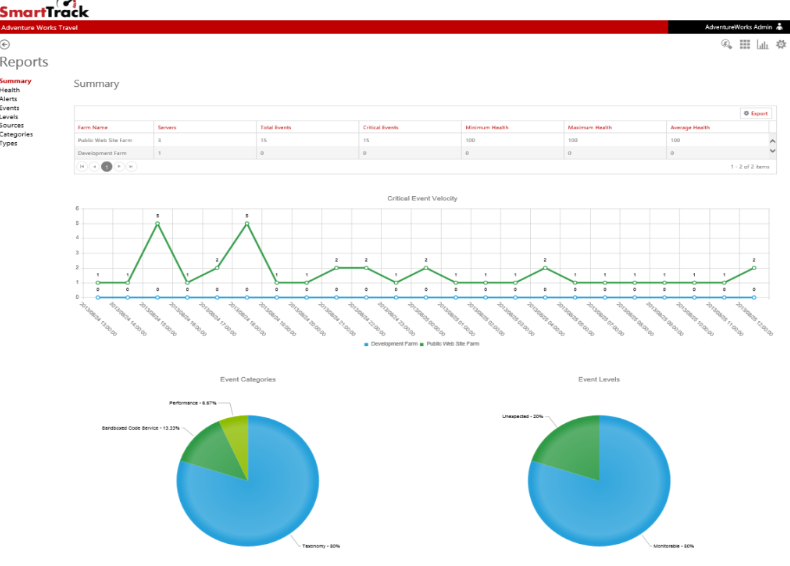 This daily summary report tracks the current health of all monitored farms. It is just one of many reports, graphs and dashboards that provide the metrics you need to optimize your SharePoint server. Source
What are my options to deployment?
Option 1: You can stand up a server and host the SmartTrack instance yourself with support from BinaryWave. If you want to consider your own hosting, we can give you all the specs for it!
Option 2: BinaryWave can host an instance for you. It is provided from their Class A datacenter in Dallas, TX.
**The first option is the more cost effective approach since only for the software license and support is being accounted for. The second option is a little higher in cost since they have to pay for the infrastructure costs.
Pricing?
Dependent on a couple different variables-- please contact us at info@paitgroup.com for more info and a demo!
If you would like to learn about pricing and how PAIT Group can implement SmartTrack to maximize the investment in your current SharePoint infrastructure, please visit our Contact page!