Cincinnati, OH - October 2021 - PAIT Group, LLC has announced the release of PAIT "My Links," a personalized and role-based navigation application that seamlessly integrates with SharePoint, Microsoft Teams, and Viva Connections.
A common hurdle for many organizations moving to the cloud is how to handle the hundreds (sometimes thousands) of links to legacy applications in their environment. The fear of losing these links and the ability to allow users to maintain their own links can lead to stalled implementations and angry employees. PAIT Group created PAIT "My Links" to empower organizations to address this concern while also allowing them to fully embrace the cloud. PAIT Group "My Links" reduces user frustration, minimizes wasted time searching for critical resources, and improves the employee experience while adding a dose of personalization.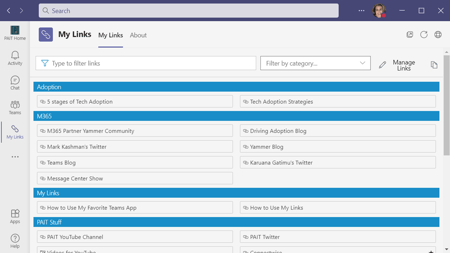 PAIT "My Links" key feature highlights:
Links are easy to add and update.

Automatically update organizational links related to a specific job role.

The quick filtering feature allows users to find links in a few simple keystrokes.

The smart filtering functionality makes it easier for users to find links based upon predefined keywords.

Seamlessly integrates with SharePoint, Microsoft Teams, and Microsoft Viva.
Get a glimpse of PAIT "My Links" application in action and contact a PAIT Group Modern Workplace Specialist to schedule a demo.