kəˈmyo͞onədē/ noun
a group of people living in the same place or having a particular characteristic in common.
"Rhode Island's Japanese community"
a feeling of fellowship with others, as a result of sharing common attitudes, interests, and goals.
"the sense of community that organized religion can provide"
We hear this word quite a bit but you may be surprised to see a technology related blog about it. Let's talk about it!
The definition above brings to mind our neighbors, neighborhoods, perhaps our church or social group. We envision this:

My Community. Our Community.
I attended the North American Collaboration Summit March 1-3. This is the image and attitude of "community" I saw each day of the conference: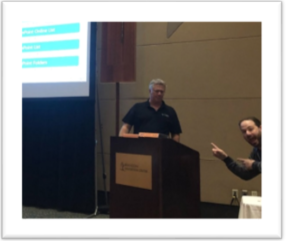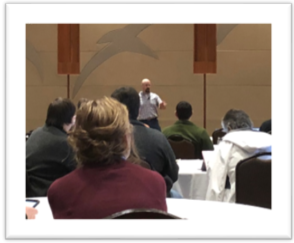 Men and women from the SharePoint and Office 365 Community gathered, on their own time, to support, educate and, encourage each other.
Speakers drove and flew in from across the country and even Europe to share their knowledge of the platform.
Attendees, from companies large and small gathered to immerse themselves in the atmosphere, soak up all the information they could, and take it back to their work communities.
I can't tell you how many times I've been asked by family members and even coworkers, "You're going to go do SharePoint on a weekend?"
YES!! I'm going to go listen to the experience of IT Professionals from various industries talk about their success, failures, and lessons learned.
Office 365… Modern and more helpful than ever!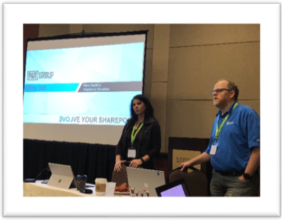 I have to say, I'm pretty lucky to work where I work, and I don't just mean from home. The two individuals I report to at the PAIT Group, Stephanie Donahue and Mark Rackley, lead a full day, pre-conference workshop "Maximizing Office 365." They lead us through the ins and outs of the Office 365 applications and new features that can make everyone's experience better/easier.
For instance, did you know that you can Pin docs under the Office Files tab and those documents will follow you to any licensed instance of Office that you're signed in to?! I knew Recent was there but hadn't really paid attention to Pinned. Thanks, Stephanie!
Here's this blog that I've pinned in Word.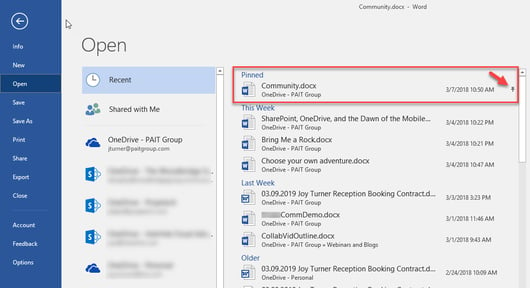 And here it is on my Office.com page:

Speaking of the Office page, have you logged into yours? If not, head on to, Office.com and log in with your Office 365 credentials. I'll wait right here while you do…
Isn't it great? I've been using it for quite a while now and I'll tell you, it's a tremendous help for staying organized and getting to what I need.
We also looked at Teams, Planner, Delve, SharePoint and its new interfaces. Honestly, my favorite part of the workshop was the interaction and knowledge sharing from everyone in the room.
From Workshop to Conference
For the standard conference days, I attended any of the sessions I could manage that had the words "Teams" or "Groups" in the title. I'm sure you can guess why!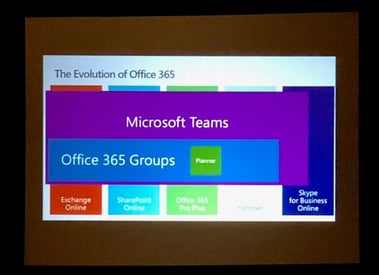 The first session I attended was John Ferringer's, "Grouping Teams and Teaming Groups."

It brought clarity to how Office 365 groups are becoming a fabric layer throughout the Office 365 platform, almost a membership service.
Christian Buckley also delivered a great session, "Navigating the Inner and Outer Loops; Effective Office 365 Communications."
We have a lot of communication options in Office 365. What makes sense to use for the department newsletter? What about the President of the company's big announcement? Then there's my team that I'm working with on a project… Oy!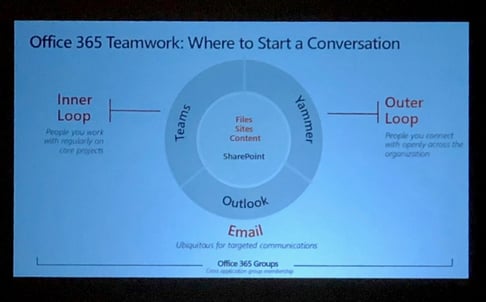 When we step away from the products and look at the need it becomes much clearer how to proceed with communication in Office 365.
My Inner Loop would be the folks I "talk" to every day. Direct coworkers and colleagues. It makes sense to use Teams for this type of communication. Our chat and any files shared are easily accessible in one interface and if we need to connect to other tools, there's a tab for that!
Next, for my Outer Loop, I would go to Yammer. That's where more global communications fit. Yammer can broadcast out to a much larger audience. The president of a large company couldn't fit everyone into a Team team. Plus, a chat space with her or him might feel more than a little awkward. Yammer is the tool of choice for this type of broadcast. Or even a company-wide communication interface.
SharePoint: that's the place for our content. Teams uses it for managing any files uploaded there so that makes life easier. Personally, I'm not a fan of using Yammer for posting or sharing "mission critical" content. Upload to the appropriate place in SharePoint first, then share the link.
Outlook… we love it and we hate it and it bridges the gap between our social loops. Email can get out of hand fast! But it's necessary. We can email folks that don't really belong in either our Inner or Outer Loops, at least from a security or domain perspective. So, we communicate with them using email. The responsibility is on us to make sure anything sensitive is never emailed inappropriately outside of our organization, even if it's to ourselves. Right?
Looking Back
The men and women I interacted with in Branson, MO were from all over the world and had one thing in common, a heart for the members of the Community. Even after flying in from points unknown, the speakers delivered quality sessions then made themselves available to anyone with a question.
Attendees from different companied mingled and gathered in groups for dinner and drinks, then picked each other's brains for tips and information on improving systems and processes.
My take away is this: The Office 365 Community is active and engaged.
We're technologists. We love (most of the time) our chosen technologies. But we're also people and we need community! We need the interaction with peers and colleagues, to share lessons learned and gain insight from those who have "been there, done that."
I for one came back from the North American Collaboration Summit refreshed, energized, and ready once more, to conquer the world with SharePoint and the impressive suite of Office 365 tools at my disposal!