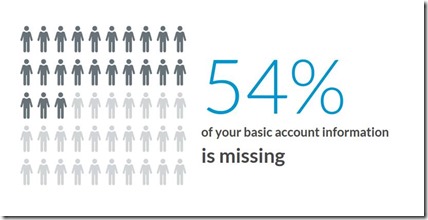 Here's the scenario: You're about to roll out Office 365 and SharePoint Online to your global organization. You've been working for over a year on gaining support for the initiative, planning a cutover from your legacy intranet, and making sure that you are covering all of your bases. After all, that legacy intranet has been around for a long time and there are a ton of legacy applications to go along with it that you have to accommodate for.
At the center of every organization is the dreaded business critical phone list. Many times it's in an excel spreadsheet, manually updated, and probably out of date three seconds after it's uploaded/distributed. Or maybe it's a "Who's who" application, a custom built people search, or a custom organizational chart. And guess what? None of the clients we've worked with that had these applications were pulling their data from Active Directory. They were *all* based on HR systems and legacy databases (or manual) and for good reason – onboarding and off-boarding processes revolve around a variety of different types of HR systems. Very few of these systems actually integrate with Active Directory. Sure, you could try to export that information and import it into AD, but have you really done a deep dive? Is the information in that HR system still accurate for employees that have been around for a while? Is it still consistent in roles or titles as your company has re-organized a multitude of times? Probably not.
The last thing you want to do is spend tens of thousands of dollars to create some sort of custom application to sync AD and these business systems only to find out that your source data is just as worthless and out of date.
So what does this have to do with SharePoint and Office 365?
If you've been paying attention to what is being released by Microsoft, this is about so much more than just moving an updated phone list to your shiny new SharePoint site. For instance, as you grow into a truly global community, your collaboration needs begin to expand into meeting the potential for accommodating everyone on a single home page. That home page that you hope will scale into the single launch point for all important things in your organization. This means profiles, personalization, and extra security. How do we serve all of our internal customers on one page effectively so that we can redirect them where they need to go? Different languages? Corporate vs Plant managers? And how do we find the people we need with the right skill sets? We have to know about them: who they are, what their role or title is, what location they are based out of.
You don't (shouldn't) rely on that AD data for just people search and phone numbers, but you need it to be accurate to customize what a user might see on the page – even new versions of Outlook will have features built in to help you plan your day and who you are meeting with:
https://blogs.office.com/2016/08/30/increase-your-productivity-with-an-enhanced-people-experience-in-outlook-on-the-web/
All of this functionality, built right into Office 365, if we only had access to this information to take advantage of it.
This is where Hyperfish comes in.
Mark and I were introduced to the Hyperfish product at the Hyperfish offices in Seattle a couple of months ago. Hyperfish uses bot technology to ask users for updates to their Active Directory profile information. This means that no one single person is responsible for populating Active Directory (who has time for that anyway?). It also means your profiles are now being filled in with the latest and greatest information. Eventually as this product grows, it will integrate with other sources as well, like LinkedIn, which can detect a title change and ask a user to confirm their new title from within a chat window! Yes of course, there are approvals. We know everyone would be just itching to grant themselves the title of CEO J
But will it blend?
Being curious, I sent a Hyperfish link out to the network team at a client that was deep into researching how to get their Active Directory updated. Not only were there challenges with profile information, but questions over how many valid users they really had and what kind of shape their environment was in. Not realizing what I had just done, within hours, the team had run the Hyperfish analyzer, reviewed the reports, and sent them out to their GLOBAL teams for review! And this was just the preliminary reporting – they were thrilled to know things like:
·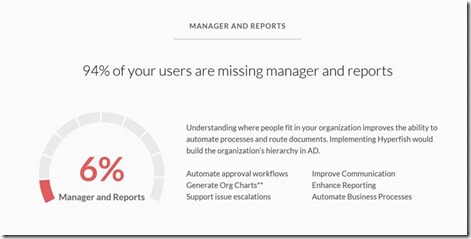 How many users are in their local domain
· How many users were being reported in 365/Azure AD
· The overall percentage of their profiles that were filled in
· The percentage of users missing manager and reports information
I have to admit, their excitement over the report caught on and I was a little geeked out (or freaked out?) that they suddenly had all this visibility and easy answers to what would've been an ugly and manual process to figure out.
Now I'm probably asked once a week about when the full product will be available!
What it comes down to
Knowledge really is power. Just knowing what needs to be addressed goes a long way to calm an anxious stakeholder. Simply by knowing what needs to be fixed you can now understand what's not going to work properly in your rollout… that org chart… that workflow routing… the phone list… personalization… there's so much dependent on accurate and complete Active Directory information.
With Hyperfish you can not only know what hurdles you are about to face, but also get the tools you need to fix all of that incorrect information. Hyperfish's bot technology will not only contact users through either email or Skype for their missing information, but it can also be configured for things like:
· Specify which fields are required
· Set the mood of your bot to match your organization
· Determine how many times you nag an employee
· Specify which employees should not be contacted by the bot
· And so much more…
Sound intriguing? Will you be at Microsoft ignite? Make sure to stop by the Hyperfish booth #852 to come say hi to Mark and learn more about what Hyperfish is up to. If you can't make it to Atlanta this year, keep an eye on their website – and give that analyzer a try!