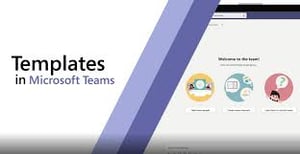 In 2020 organizations dove into Microsoft Teams leveraging the communication hub's various capabilities to keep their employees connected and engaged during the global pandemic. Chats, virtual meetings, channels, teams, and so much more were created. The longer that an organization used the tools inside Teams the more they discovered what is and isn't working for their own organization. If you have taken note of what is working, wouldn't it be a thing of beauty to be able to replicate.
This is where Microsoft Teams Templates comes in. It is also the topic of an upcoming webinar, Microsoft Teams Templates: Replicating Best Practices for Success, brought to you by Orchestry and PAIT Group.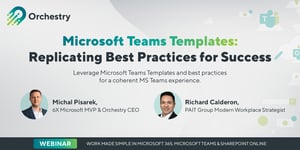 PAIT Group's Modern Workplace Strategist, Richard Calderon joins Orchestry's CEO, Michal Pisarek for a discussion and demonstration on leveraging Microsoft Teams Templates to replicate success in Microsoft Teams. Establishing core Teams Templates to tackle collaboration through common business processes, such as project management, event management, crisis response, and so much more
Richard and Michal will walk through how to create Microsoft Teams Templates that:
Standardize across Microsoft 365

Govern, transparently to drive user adoption

Integrate other core Microsoft 365 applications

Drive predictable user experience & productivity
The Microsoft Teams Templates: Replicating Best Practices for Success webinar will take place live on Tuesday February 16, 2021 at 1:00 pm Eastern| 10:00 am Pacific.
Additional resources on the subject of Microsoft Teams Templates: