Microsoft Stream is awesome. I have loved it ever since it launched in 2017. I could load company videos into a centralized "YouTube for the enterprise" portal, organize them using channels and groups, and I could add hashtags and chapter links so my end users could quickly get to the video content they were seeking. Do I want options to auto-generate captions of videos, trim videos, and replace videos while preserving the original link? Yes, please! Stream could do it all!
In May of 2020, however, Microsoft released a new feature in Stream that turned me into an all-out Stream evangelist! The option to "record screen" meant that anyone could create short videos and share them with the rest of their colleagues. I couldn't stop telling people about it! And now I'm telling you, because sharing is caring. 😊
The Basics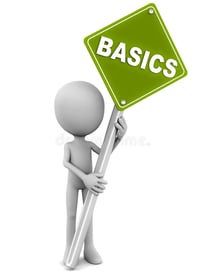 In Stream, you can record up to 15 mins of video. You used to be able to record "screen and camera" or "screen only", but at the end of 2020, they added an option to record "camera only" as well. The video you create will be saved in Stream where you can trim it (beginning and end trimming only), turn on noise suppression and more. If you type time stamps in your video description, they will become hyperlinks that viewers can click on to "jump" to specific points in your video.
Why am I so excited about this? Well, everyone has a need to share knowledge at one point or another, right? And while sometimes a lengthy document with tons of detail and lots of screenshots is the way to go, there are many times when a short video/visual walk-through is so much more effective for knowledge sharing and documentation needs.
While video is a great medium for sharing information, the average information worker likely does not have easy access to or familiarity with screen-recording software. Aren't there free software options out there? Sure! But they require install (which your org may not even allow) and then the individual will need to spend time learning how to use the software. Users want simple tools, and I don't think screen recorders get much simpler than Stream.
How it Works
Start by going to Stream (it's one of your many apps in Microsoft 365).

From the top menu bar, click "Create" and select "Record Screen or Video."

Select your desired camera, microphone and recording option, then click the big pink record button.

Select what you want to record (if you chose screen recording). You can record the whole screen, a window, or a Microsoft Edge tab. You can decide if you wish to share system audio as well. If you have chosen to also record your camera, you can resize and move the camera feed as desired. After making your selection, click "Share."

You will have a 3 second countdown before the recording begins. You will have access to a "pause" button in case you want to pause and resume as needed during your video. When you are finished recording, you can select "stop sharing" or simply hit "next" to review your recording.

From the review recording window, you can choose to record again (I do this at least once every time because I flub up some part of the video), trim and upload, or just upload to Stream as is.

When you upload, you type the name for the recording, a description, select the video language and whether or not to allow everyone in your org to view. You either "Save as draft" (for your eyes only) or "publish."

Once you save or publish, you have the option to "go to my videos" and do more. You can edit the details to add or change permissions, and for some reason, the selected language doesn't always "stick" so you may need to edit details and select the language again. You can choose a thumbnail for the recording (what is displayed in Stream thumbnails as well as "still shot" for the video when you embed it in SharePoint or elsewhere).

NOTE: Only published videos can be seen by others. If you save as a draft, you can share the link but no one else will be able to watch the video until you publish it. Also if you want someone else to download the video, you need to make them an "owner" of the video as well. Finally, I always want to download in MP4 format, but that is not the default for these videos. I've found that option is only there after I "trim" a video first, so try to always use the trim tool if you want to download an MP4.
Now, isn't that helpful? You just read how to use this super awesome feature in Stream. Want to know what's even better? Watch how!
Use Cases
Are you trying to think of scenarios when your end users would need to record videos? Here are some cases when this easy-to-use tool can come in really handy!
Your HR team wants to tell all employees about a new benefit and how to access more information via the employee portal. Anyone on the HR team should be able to easily create a quick video using the "screen and camera" option, walking the end users through the portal while explaining the benefit and talking into the camera for that personal touch.

Your CEO needs to share an important announcement quickly with employees. She wants to record just her, talking directly to the camera. She can easily use the "camera only" option and speak directly to her audience, full screen. What if she messes up? Easy, she clicks "record again" and gives it a second attempt before publishing to the video portal.

You have an employee leaving the company after many years of service. There is so much knowledge to capture and so little time. You are in tons of meetings and cannot sit and review everything together, so you ask him to record short walk-throughs of several critical routine tasks. You create a channel in Stream where he saves all of his videos, and now you and his eventual successor will have a knowledge base to refer back to at any time for a quick "how to."
Conclusion
There are plenty of amazing screen recording applications out there, and many are far more sophisticated than Stream. But if you already use Microsoft 365 and are looking for a super simple (and pretty powerful!) tool to record your short videos (remember the 15 min time limit), I don't know why you'd use anything other than Stream. It has just the right balance of features and simplicity, it's free with your Microsoft 365 license, and it's fun to use! I'm a fan, and I hope to make a fan out of you, too!
Editor's Note: Everything in this article is based on Stream Classic.
For additional information on Microsoft Stream watch PAIT Group's webinar: