The Microsoft product range has always had a special brand of user that has acted as the glue that holds the whole system together. The Power User.
You can hire a Database Administrator, a JavaScript programmer, a bookkeeper, or a mechanic. There are professional certifications, degrees, or patterns of employment that will tell you who is or isn't qualified. Power Users, you find, like diamonds on the ground. They may be secretaries, clerks, department heads, or sometimes even executives. A Power User is someone who wants to find tools they can use to make their work more efficient.
These are the people who figure out how to do mail merges, make Excel spreadsheets that seem magical in their ability to track and predict some kinds of information. In the deeper Microsoft stack these were the people who embraced SharePoint Designer to make complex workflows and Microsoft InfoPath for creating forms to replace a mountain of paper and data entry. Then Microsoft made some changes.
Some workflow options slowly disappeared from SharePoint online. InfoPath, while still available, was put on notice that its time was coming to an end. For a while the tools of the Power Users were being deprecated and when replacements were discussed a lot of unfamiliar words began to creep in. JSON, REST endpoint, framework, developer terms became common and that is a line many Power Users wouldn't cross. They were the masters of the "no-code solutions" and suddenly it seemed like everything needed code.
When I first began to hear about PowerApps as a replacement for InfoPath I started searching for blogs and examples and gave it a shot. I could see the potential, but I kept hitting frustrating roadblocks. Demos would often stop in the middle and have a chunk of Javascript with instructions like "just copy and paste this into the project". There may have been a general description of what the code did, but the demos were useless without it. It just didn't feel complete, and it definitely didn't feel like something a Power User would gravitate towards. InfoPath had its moments where you may have to branch out into a little hand-crafted code, it isn't a sin, it just seemed that it was a little too necessary to get any serious work out of PowerApps.
This is the new Microsoft. I was used to the Microsoft that delivered "finished" products. Version 1, version 2, famously version 3 is when a tool was more usable and reliable, but they were products delivered with almost all the options they were going to have until a new distinct version came out. The new Microsoft moves faster and isn't worried about letting us see the work in progress. The PowerApps I was looking at was just the beginning. That was almost a year ago.
PowerApps Today
With the constant development model of the Microsoft Cloud it is easy to lose track of a project once you feel like it isn't quite ready to use. I gave PowerApps a new look the other day, and here are some of the things I found.
The PowerApps Web Studio
Every indication is that PowerApps is a "Cloud First" tool. You don't need Microsoft Visual Studio installed to get started with it. You don't even need the lighter, free, Visual Studio Code (which I like, and if you want an advanced text editor and light IDE, check it out). You need 3 things, an Office 365 login, a browser (to be honest Google Chrome is your best bet here, do yourself a favor and turn off your ad blockers), and this web address https://web.powerapps.com.
If I were an optimist, once you logged into the page above, I would tell you to click on the buttons that say, "Start from blank" or "Start from data". However, that would make me like one of those parents who teaches their kids to swim by tossing them into the deep end and walking away. We will start a little slower.
I am going to choose one of the premade apps for us to look at. On the page if you scroll down you should see something like this (remember, this was written in January 2018 and PowerApps is still changing, in the future things may look different).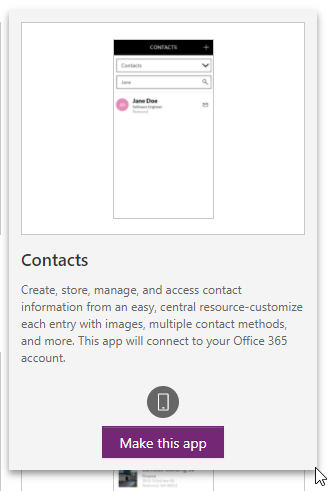 Go ahead and click that Make this app button.
It may take 20 or 30 seconds, and you may have to click through a few permissions prompts the first time, but eventually you will get something like this.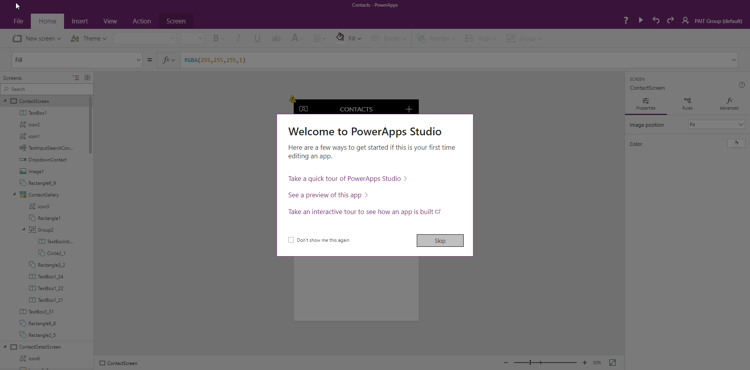 Go ahead and click through the options. It would take me a lot of pages to document them here, and they still wouldn't have the same impact. Take your time, I'll wait.
So, what did you learn? Dozens of data sources (many of them NOT Microsoft tools), a nice form builder for desktop and mobile, little or no code for many applications. If that isn't pretty much a checklist for what you were looking for, you somehow stumbled into the wrong article.
So, does it work? Go to the File tab in the PowerApp builder and click Save As, I recommend saving in the cloud.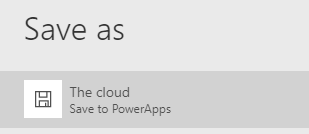 Once that is done, congratulations, you have created a PowerApp. Go back to where we started, https://web.powerapps.com and you will find the new Contacts app waiting for you.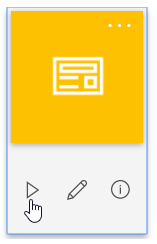 Hover over the Contacts app and click the

symbol: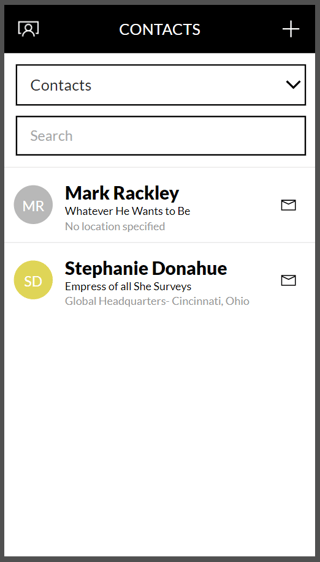 All the contacts in your Outlook contacts are now shown in this PowerApp.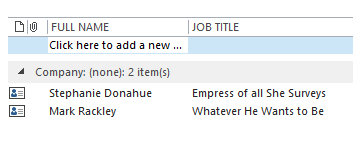 Let's trying to add a new one, by clicking the

in the corner.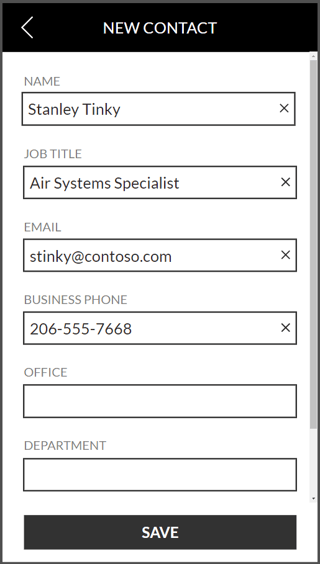 Click the big Save button and your new contact is added, both in the app, and in Outlook.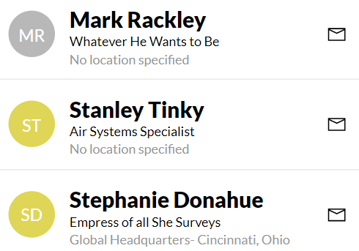 Neat trick, don't you think?
There are several demo applications on the PowerApps site, take a look. The next time you are looking for a way to make a quick application for your mobile workers, or you need a form that can be filled out easily, remember PowerApps as a possible solution and hopefully you can get a quick win. If you do, let us here at PAIT know, we love success stories.