My heart is heavy today. After two weeks of "spring break" otherwise known as "Staycation 2020" here in Ohio, it is time for my kids to go back to school. This means it's time for them to go virtual. It's not how I had envisioned things this spring but here we are. As someone who teaches others how to 'remote work' and collaborate online for a living, we've done some work in the education space, but I will admit we haven't gone to the depths of Microsoft 365 for Education that my kids are about to experience (let's all admit no one saw this one coming) and so I thought I would blog about it in case other schools and organizations are interested. I know I'm super curious!
Background
My boys are in the 9th grade (almost 15) and 6th grade (12) and they both were issued a Microsoft Surface 6 device at school. Before the school year began, I was thrilled to find out they were about to begin using Microsoft 365 and not only that, Microsoft Teams was deployed. Oh my heart! My inner nerd was super excited for them. I was really hopeful it was more than just talk to make the school look good for using computers. Let me tell you what, I have been nothing but impressed in how their school uses Microsoft 365. The kids use Teams, OneNote, Forms, and yes, also Outlook….at some point I'll come back to another conversation on how we need to help our children with formal communications before they get out of college. Anyway - Fast forward to this spring and both of my kids are about to head into a FULL day of school from home. I thought I would document how this goes, since it's a source of curiosity for me and I'm hopeful it goes as well as I think it will.
Prep Work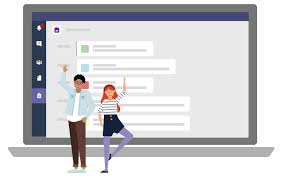 The Friday before quarantine began and the last Friday before their 'spring break' the high schoolers (they call it 'upper school') were asked to attend each class at school in a physical sense, and join their Microsoft Team for their virtual class. This was to make sure everyone has access and knew how to log in when they came back virtually after spring break.




A note from our school's IT person - The most important thing is to keep stress levels low and not expect everything to go flawlessly the first week. Great advice for Day 1 of any go-Live!



He also says in his note to the parents and students - TEAMS is an Enterprise level tool that is FAMILIAR…CONSISTENT…RELIABLE….and SECURE. It integrates seamlessly with our other powerful tools. Yesss!!!




Over spring break, we received their schedules. Here's a sample of the full 6th grade schedule – note the Microsoft Form used for attendance and the use of Teams for chat in addition to meetings. Nice!
The kids are prepped, the schedules are set and now all we have to do is show up, right?