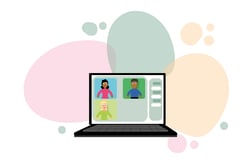 The end of the school has officially wrapped, and I thought that I would end the school year with a blog wrap up as well. <<See THIS blog post if you missed Part 1 >> I had originally intended to do a series on this, but the reality is our transition into the virtual school world was really smooth. I truly didn't have a whole lot to blog about. I know we're lucky – I saw a lot of posts with frustrated parents and frustrated students over the past few months.
The Sweet Spot for Virtual Learning
I believe we are in the "sweet spot" as it relates to the age of my kids – although we all dealt with disruption, I think our highly resilient, technology savvy middle schoolers and high schoolers truly gained the most from this experience. I'll never believe you can replace the important in-person engagement at the K-3 level and we all know that while Grades 4 and 5 start to really dig into the schoolwork, there's not much independence there yet. You can't exactly expect them to sit still for a full day of school without any supervision. That being said – my (now) 15 and 12 year old experienced a wealth of growth in independence, responsibility, and learning how the "real world" works. I spend most of my days on virtual conference calls and that's precisely the experience they just had. It sparked a number of conversations with my kids and a curiosity in what I do, ending with a request by my 15 year old to learn PowerApps this summer. #proudmom
First-hand Observations from the School Year

In reflecting on what I saw over the past few months, there were a number of things with the school's approach that I find worth sharing about the experience:
If you aren't already familiar, Teams for Education looks and functions differently than what you would see in the corporate world. If you are curious, check out the Educational policy templates in the Teams Admin center. This should be expected, our kids should definitely not have the freedom to connect with external contacts. They also have some fun features like being able to change the theme/color of their Team.


Both the 6th and 9th grade teachers used a combination of meetings (that required the students to be on camera) and pre-recorded sessions. Teachers were readily available over chat throughout the day (and to their credit, many evenings too).


They made the attendance check-in for the high school a little more fun than a standard Microsoft Form submission. They were requested to answer a question every day – something like "What was your favorite snack yesterday?" It's a great way to get them to actually respond, but also to learn a little about the students as well.


Live class meetings were made available as recordings to students. This was really valuable to my high school student who was taking a challenging honors science class. The ability to go back and review something that wasn't completely covered in his notes was super helpful.

Speaking of recordings….my 6th grader was asked to record himself practicing Spanish vocabulary and also practicing for band. Great idea! Except my kid is a total introvert. Our discovery was that he would actively avoid anything that needed to be recorded because he just didn't want to be on camera. This is tough! I know fully grown adults that still don't want to be on camera for a meeting, so this was not a surprise to me at all. A lesson in life, sometimes we have to do things we just don't want to do 😊

The "core" class teachers did great in Teams. Some of the "electives" teachers opted out because of the lighter workload. Anything sent by email was, by in large, a struggle. My kids have ZERO inbox management skills and they kept defaulting to organizing their inbox by the teacher's name instead of by date. (why??) This means they often missed new emails, which equated to missed assignments. I'm hopeful that if we have to do this in the fall, that the remainder of the "elective" teachers get on board with Teams too. ((Please, we are begging you!!))

Divisional broadcasts were moved to Vimeo. This made a lot of sense, since the parents are effectively "external users" and we don't have access to the Office 365/Stream environment.

Varsity lacrosse meetings were also moved to Microsoft Teams meetings. They were able to cover their solo practice responsibilities. ie. Wall ball, using the bounce-back, workouts, etc. I do know there were even some national teams that were having actual workouts on a meeting as well.

Major announcements were still collected and posted to the school's COVID website, which is publicly available. This still follows our corporate best practices of keeping news in a separate space (similar to SharePoint), which reaches a broader audience, vs the collaborative nature of Teams, which were broken down by classroom.


Kids will be kids. The students originally had the ability to mute their teacher (check your policies!) and there were a handful of memes created from teachers that did things like sit a little too close to the monitor. We did have a few conversations at home about giving these teachers a break – teaching remote was certainly not what they signed up for this year.
All in all, I'm completely and entirely impressed with my kids experience. As I understand it, the person who manages our school IT was being called in to consult with schools around the world on remote learning. We are incredibly lucky to have had such an experience. Living proof this CAN be done and done well! At PAIT Group, we are actively helping high schools and universities adopt Microsoft 365. If you need to prepare options to plan for this coming school year, please Contact us.