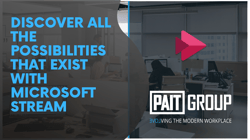 Ok, I'll admit; this is my version of a "clip show" blog originally wrote this back in May of 2017. After a recent Stream webinar, I decided it needed some updating.
Not too long ago (ok years ago now), Microsoft announced that a new video experience would be coming to Office 365. If you're like me, and I know I am, you were already quite pleased with Office 365 Video. Hold on to your hats; it gets better. So much better!
Stream is the grown up, more mature version of O365 Video. Anyone in your organization can create channels and upload videos. If this makes you nervous, relax, it's controllable from the Admin Portal. But, for the sake of collaboration don't be too hasty to lock this down.
Like O365 Video, Stream allows you to create multiple channels. You then have the ability choose who has access to the channels. Individual videos can be secured as well. Your Stream home page will showcase trending and videos you've liked as well as links to the custom channels you've created.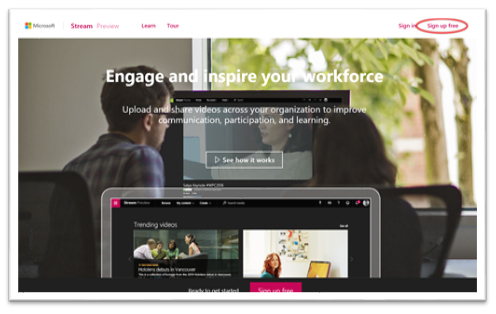 The first thing you need to do to get started is browse to https://stream.microsoft.com/en-us/ and either log in or sign up.
The first time I accessed this page I had to sign up using my work (Office365) account. I'll admit, I watched the promo video first.
Once General Availability is in full swing and the transition to Stream has fully started this will no longer be necessary. Office 365 admins will be able to turn on Stream for the entire tenant.
In the General Availability Planning announcement, it was said that folks who are already using Video and Stream will see both apps in the App Launcher.
Sure enough, after I signed, up the Stream App appeared.

Once you're on the Microsoft Stream home page you can get a sense of how O365 Videos was the predecessor of the layout. The first things you see are the Create a Channel and Upload a Video buttons. There's also a great "Learn how to use Microsoft Stream" section at the top of the page. You can easily remove this from your Stream page by clicking "Don't show this again."
Here comes all the new stuff! .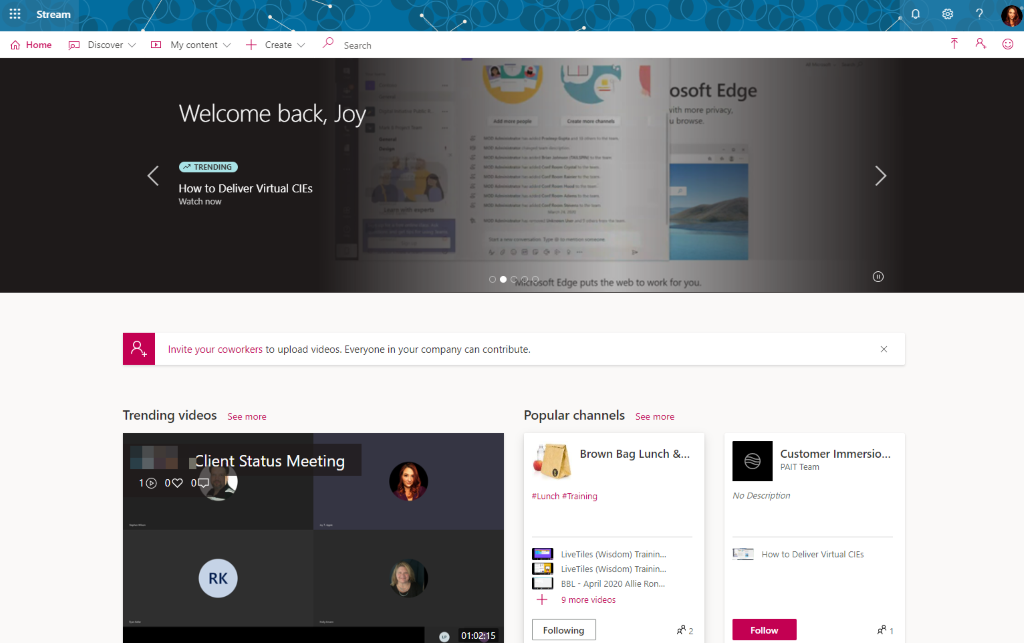 Create A Channel
It's as easy as clicking a button.
Name the channel and give it a description. Remember the SharePoint adage: "Searchability impacts findability!"
The description and any hashtags are searchable by your channel's audience.
If the new channel should be accessible to anyone in the company, just select "Companywide channel."
However, let's say this channel is for your team that collaborates in MS Teams. Simply put the name of the team in the "Select Group" box. Since your team name is the same as your Microsoft 365 group. Easy-peasy!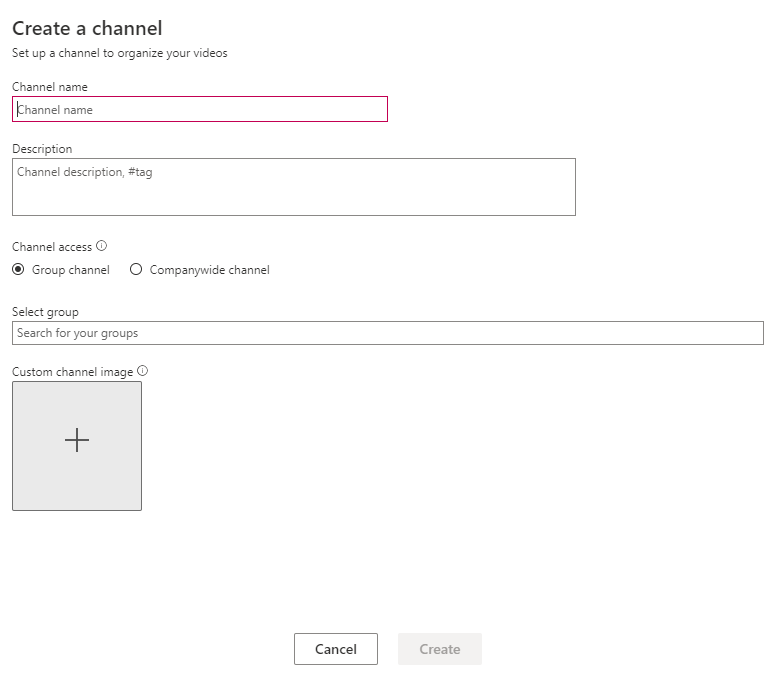 You can even add a custom image to your channel.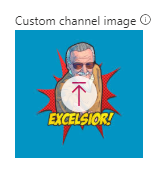 Once you have channels set up for organizing your video content, it's easy to get started uploading. It's really as easy as dragging and dropping into the channel.
Insert Drag and Drop Video
Alt text – video of dragging and dropping video file into Stream channel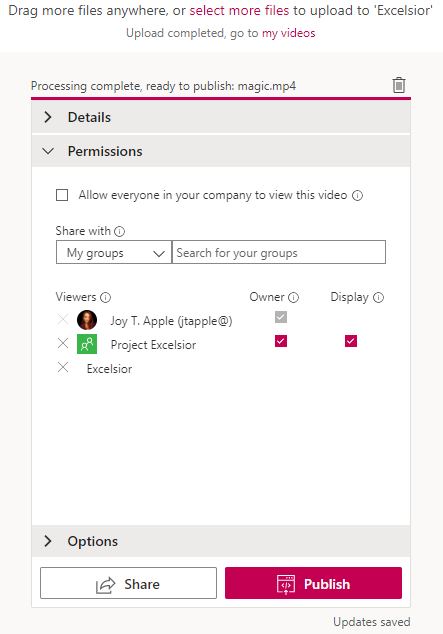 You'll want to review the details, permissions, and Options for the video before publishing.
After you publish your video you can use the Share button to manage the precise start point of the video, get the link, and/or snag the embed code for SharePoint pages.
If you happen to navigate away from the upload screen before publishing your content you can just click into "My content" and publish from there.
Once your videos are uploaded to the appropriate channels you can share them a variety of ways.

Click the Share icon on the image and the Share Options box will open.
Share Your Content
The first option presented is to share by direct link to the video, perhaps in a SharePoint quick link, or Teams tab. You can also share by email. Note: Stream cannot be shared outside of the organization. We're all looking forward to the day it can. From what I've found this is the link to the User Voice suggestion for external sharing with the most votes.
You also have the option to specify a start time and can even post directly to Yammer.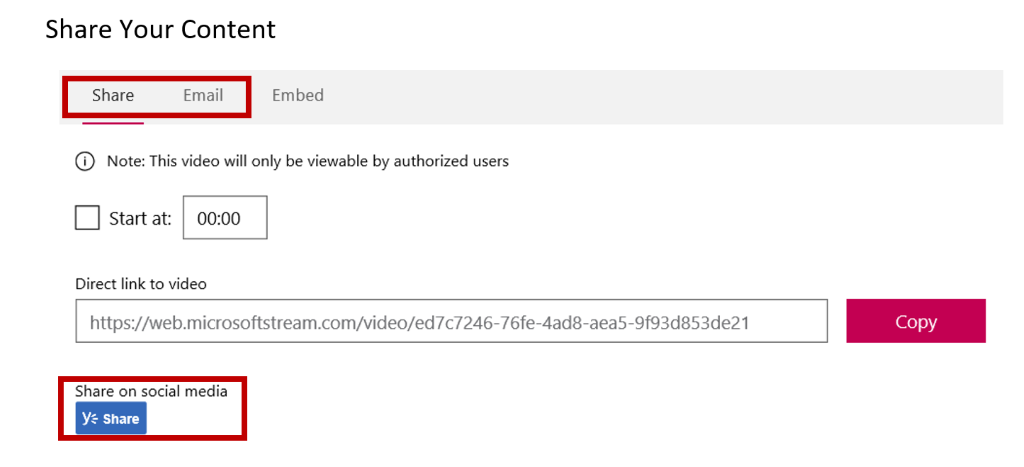 The third option given is to share by embedding the video in a page.
You have several options available including the video size, Autoplay, (Please think long and hard if you are considering turning this on. Think of all the times you've been annoyed by audio playing automatically on a web page) and specifying a start time in the video.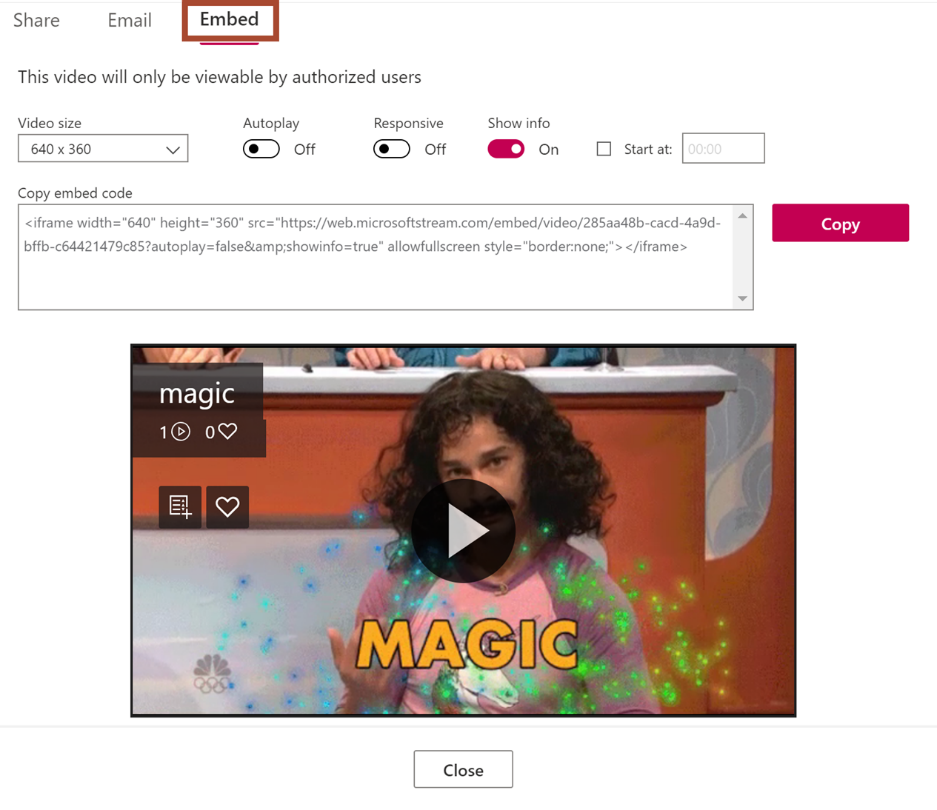 After making your selections, you simply copy the embed code and paste it into a web part on your SharePoint page.
Keep in mind, no matter how you share videos, any security you've applied to the content will be respected. Think about how you need to secure it and if that will impact users experience when sharing. Will you embed it on the home page of the company intranet? Then it makes sense that it's content everyone should be seeing.
For anyone still hanging on to Internet Explorer; let it goooooo, let it goooo! Or only use it for the old, legacy apps that may be the reason it's still on your PC and use the new Edge, Chrome, Firefox… anything except IE! You will have some quirks here and there with it. Not just in Stream but M365 in general. Here's the scoop on that.
So there you have it, video for the workplace in a more refined and innovative interface. It's manageable, securable and ready for primetime… with the exception of external sharing.
We all know that "a picture is worth a thousand words." Video goes beyond merely a picture. Stream offers us a way to to engage with our colleagues in a more personal yet repeatable and efficient way.