Let's face it we really don't live in an all or nothing world (even though some of us would like to think we do). So now that the world has experienced what it's like to work remotely, do we really think everyone wants to go back to the way thing were structured and solely work in an office environment. Similarly continuing to work remotely most likely won't be the case. However, it does bring forth new possibilities for a hybrid workplace. A workplace where some employees conduct their work 100% at a physical office, some work completely remotely, and others split their time between working from home and the physical office.

To discover what this may look like to your organization you will need to dig into the following:
How can an organization effectively work together in a hybrid workplace?

In what areas should there be an increased investment ?
Let's approach each of these questions individually.
How can an organization effec
tively work together in a hybrid workplace?
To best answer this you need to look deeper into the overall goals the organization wishes to achieve and tying those goals to a policy that empowers employees to do their best work in a flexible environment. To arrive at that policy and determine what a hybrid workplace means, each organization will need to weigh some of the following factors:
The different roles in the organization and the nature of the work associated with those roles
Depending upon the primary responsibilities of each position at an organization you might be able to consider if the entire role or a portion of that role could be accomplished in a remote fashion. It might prove to be a difficult tasks to have an employee to works in a warehouse stocking inventory to perform those functions at home. While the content marketing manager can research, analyze website content, write, promote, and publish content from just about anywhere.
The individual personality of the employee,
Not every individual is cut out to work remotely. Some individuals thrive off of human interaction and others simply need the established structure that is created by the physical office. Removing either of these could impact the way the employee productivity & performance. On the flip-side other people could benefit from the flexibility that remote work has to offer. Thus leading to improved mental health and increased productivity.
The experience level of the employee,
For those who are just starting out such as recent High school and college graduates they may prefer to be surrounded in person by a supportive network of knowledgable people. Thus making it easy for them to have their expert resource a few feet away to help guide them.
Connecting the physical and digital spaces in a meaningful way.
Take a look at the physical spaces you have available. Take a look at all they ways it could be possible to shift the environment such that it would be possible to have in person employees and remote employees connect. Picture a conference room where the seating faced a large screen where the remote employees on the screen had the ability to not just hear but see all of the people in the room (of corse via versa). Also think about creating shared spaces for employees who may come into the office a couple of days per week.
In addition to these considerations, gathering input from employees (by conducting an employee survey using Microsoft Forms, of course) within the organization will aide in best determining if certain groups of employees would fair better or worse.
What areas should there be an increased investment?
Digging deeper into this question you wind up asking; what areas will need additional investment so that the organization sets itself up for effective & efficient communication, collaboration, & productivity.
Let's start with technology. Today's workplace technology MUST be able to enable & empower workers to interact and connect anytime and anyplace. That is the cornerstone to ensuring a fluid and successful employee experience. Connecting via video simply isn't enough. The ability to utilize one platform to meet, chat, call, and collaborate while integrating that same platform with other tools will result in the reduction of unnecessary administrative work that gets in the way of getting the REAL work accomplished.
Let's connect the Frontline (Firstline) Worker with communication & collaboration technology. Recently, PAIT Group's President & Co-Founder, Stephanie Donahue, discussed this very subject on The Intelligent Workplace Podcast. The workplace's Firstline/Frontline can make or break an organization. Yet we are leaving them out in the dark and making it difficult for them to do their jobs. What often ends up happening is they get creative to get the job done. They go outside the reach of IT because they either haven't been given the tools they need or they don't know what is available to them and need additional training. It is high time to bring this group of employees into the tech loop. The benefits the organization will reap as a result of improving employee experience will be 10 fold.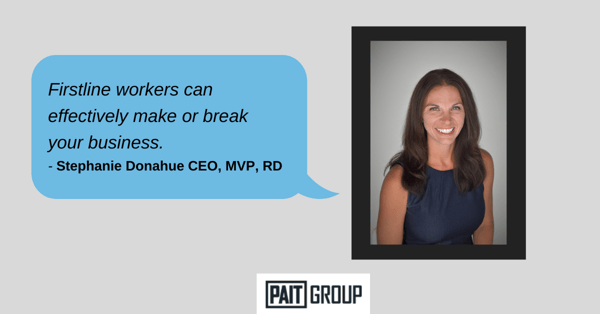 Although we start with technology, let's make sure we don't end with it. The employee is the cornerstone of our businesses and organizations. The tools we roll out must meet the needs of the people that use them. Now more than ever employee wellbeing is at the forefront of our minds. A culture of inclusivity must take into consideration the way our people work. Business users that prefer to work in an office setting and remote workers that will continue to join meetings from their home offices (at least some of the time) need to be empowered with a toolset that connects and leverages their knowledge and skills seamlessly. The goal of a hybrid work model is to have no disruption in collaboration or disconnect in the daily lives of employees, regardless of where they work.
New hires may benefit from being onboarded in an office environment to meet their coworkers and colleagues face to face and experience their company culture first hand before potentially shifting to a remote or telecommuting role.
Thinking about working towards a hybrid model? Unsure of where to begin in assessing what your needs are in terms of aligning your newly found polices with your Microsoft 365 investment? Contact a PAIT Group Team member and we will be able to set your organization on the path for a successful employee experience in a hybrid work environment.
Join Joy Apple (aka JoyofSharePoint) and Richard Calderon on May 11th at 1:00 pm Eastern where they will discuss how to ensure collaboration and communication success no matter where you work.