As we write this, dozens of blog posts are being published talking about all the new awesome features and changes coming to OneDrive and SharePoint. At the end of the day though our customers care about one thing.
"How do these changes affect me?"
All the stats in the world mean nothing to Doug in accounting who needs to create a new form and he's slowly reaching for InfoPath like a scene from a horror movie. Or Nancy in marketing who needs to create a new site to communicate with executives but doesn't have a technical bone in her body and IT is already swamped with work. They simply don't care that Yammer saw a 70% growth last year or that 85% of Fortune 500 companies are using Office 365.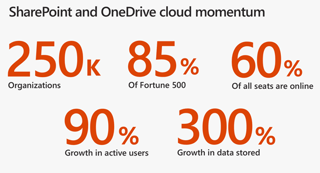 As awesome as these stats are, Doug and Nancy want to know about their cheese. Where's their cheese moving to? Is someone taking away their cheese? And what are the new cheese options?
So, let's look at what the SharePoint Summit means to all the Doug's and Nancy's out there as well as those IT Directors who must manage this stuff day in and day out. What's the deal?
To mix things up a bit, we are going to give you two different perspectives for the price of one as both of us (Stephanie Donahue and Mark Rackley) give you our opinion on exactly what you need to take away from the 2017 SharePoint Summit.
Mark's Perspective
As a developer and solutions architect, I'm keen on the how the changes in SharePoint are going to affect the customizations out there both short term and long term. I especially have a passion for forms and workflow as the proper use of these features can mean the difference between happy users adopting SharePoint and disgruntled users wanting to go back to the way things were.
With that said. STOP USING INFOPATH!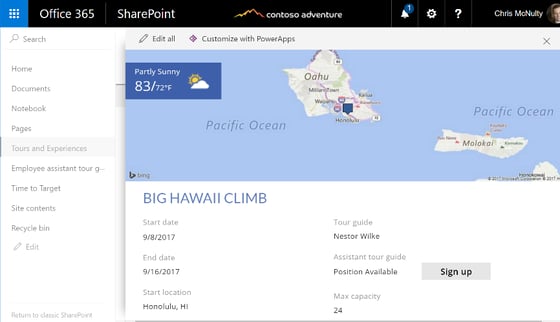 Seriously folks, stop using it. Just stop! It's dying and it will not work with the Modern experience. The future of forms and workflow in SharePoint is PowerApps and Flow and one of the features coming that people have been clamoring for is the ability embed PowerApps forms inside SharePoint Lists and Libraries. This ability is HUGE, but what do you do about your forms today? A question that was asked during the Summit was what about third party forms tools like Nintex, K2, and StratusForms? The response by Chris McNulty was simple, You can certainly use PowerApps to create forms similar to the forms you create with these other tools, but there will always be a need for these tools for certain scenarios not covered by PowerApps. Bottom line you don't have to stop doing what you are doing today unless you are using InfoPath… just… stop….
"This ability to embed PowerApps forms in SharePoint Lists and Libraries is HUGE, but what do you do about your forms today?"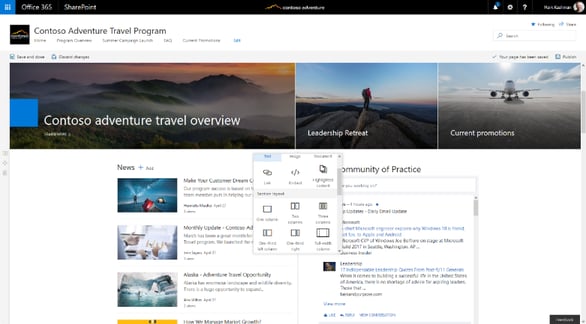 Speaking of modern experience, the new Communications Sites and multi-column layouts features allow Nancy to finally create some slick SharePoint sites for those pesky executives that no longer "look like SharePoint"… I know? Right?
The other big announcement today is that the SharePoint Framework is coming to On-Premises SharePoint 2016 in Feature Pack 2. This is great news for On-Premises customers looking to take advantage of all the enterprise features that the SharePoint Framework brings to client side development.
As a developer, the bigger news for me came out of the Build Conference last week when new SharePoint Framework features were announced, including the ability to replicate the Custom Action and JS Link functionality we have today in Classic Sites. I got to play with these features at the Dev Kitchen in Seattle a couple of months ago and I was impressed with how easy they were to use. You can learn all about these new features by listening to the awesome dudes CJ and AC at the Microsoft Cloud Show:
Episode 193 | Vesa Juvonen on New SharePoint Framework Capabilities Announced at Build
So, my perspective? Figure out your forms strategy sooner than later and stop using InfoPath. If you are a developer on Office 365 (or On Premises 2016) I highly recommend you dig and learn the SharePoint Framework. It's the future of SP Dev and gives us the management and deployment abilities that script injection sorely lacks.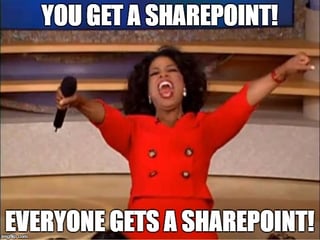 Finally, I had the opportunity to chat with Jeff Teper at SharePoint Saturday Twin Cities a couple of weeks ago, and I asked him "If you were brand new to Office 365 and you had to choose one aspect of Office 365 to specialize in, what would you recommend". Without hesitation Jeff (can I call you Jeff?) responded with "SharePoint". It's the glue. It's the background to everything. You create a group, you get SharePoint, you create a Team, you get SharePoint… Everyone gets a SharePoint! SharePoint was rejuvenated last May at the Future of SharePoint event and its momentum continues.
Stephanie's Perspective
Unlike Mark, I'm *not* a developer in the true sense of the word. I avoid coding like the plague! However, as a forms (InfoPath), workflow (SP Designer) and no-code-solutions girl from way back, I'm just as thrilled as he is to see continued improvements on PowerApps and Flow. I love the fact that these are technologies that reach different types of skillsets. They provide opportunities to build solutions that I had sadly relinquished to the development team. I also love to see users who identify with me here, who can barely draw stick figures much less provide elegant branding, now have the ability to create sites and pages with beautiful layouts like the new community sites.
For those that know me well though, you'll know that while I do get excited about all of these new tools, I am actually very much a realist. I have a session called "Taming the Hoarders" because I spend a LOT of time with the business (I know where you hide your data) and I saw a BIG win today with Files On-Demand!
Using Explorer View isn't always the ideal option. However, for many users, it's an effective way to bridge the gap between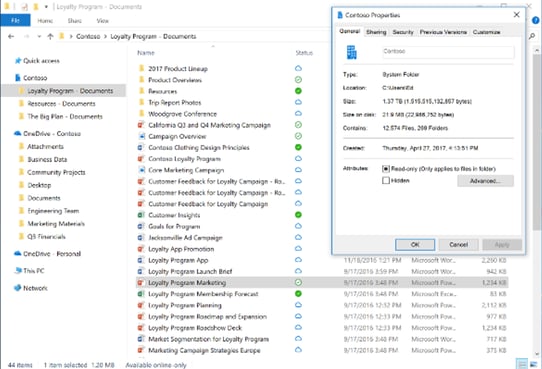 migrating off of those comfortable file shares and getting moved into OneDrive for Business and SharePoint. Now that we have selective sync options and sharing available in explorer view, we continue to bring functionality to those who prefer their "cheese" right where it's always been.
As someone who also spends a tremendous amount of time building strategies around how to deploy Office 365, the one thing that stuck with me today is that it's truly a new era in technology. Doug in accounting and Nancy in marketing have never before had the ability to build their own business applications. It's exciting! But it brings challenges - Doug and Nancy aren't yet aware that they *have* the ability to create a form or site. Most organizations are still in the mindset that IT builds applications and the business uses them. Terrified of "messing something up", users are often leery of exploring new options. Convinced the end users "just don't get it", IT is often leery of giving them any control anyway. IT also holds a strong commitment to security, which has long been the bottleneck to productivity and efficient collaboration. Microsoft is out to change that in a big way, but it's going to take more planning, communication, and education to get to the point where IT feels comfortable that intellectual property can be secured in this free form, business-user controlled scenario.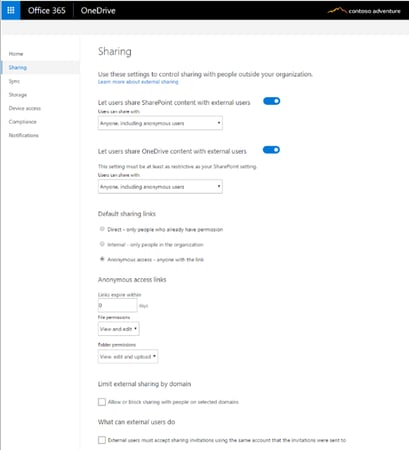 Remember a year ago when our IT Admins were all nervous about not having servers to support anymore? Well, I think their new role is becoming abundantly clear and is more important than ever.
"If the end users are building sites, forms, and workflows, then we need to build a safe space for them to play in."
While all of these features were not highlighted today, Office 365 provides a wealth of security – encryption at rest and in motion, external sharing controls, rights management, data loss prevention… just to name a few, and many of them are cross-platform (not just for SharePoint). It's been said that in this cloud environment that "Identity is the new firewall" and it's critical that we fully understand what that means. While I'm really excited about the possibilities here, I do think it's critical to take a step back and create a governance plan before releasing all of this fantastic functionality into the wild. I promise you when they get it, there won't be any turning back!
Summarizing it all
The main messages you should take away from The SharePoint Summit are actually the same messages you should have taken away from the Future of SharePoint event last May the 4th.
SharePoint is going strong. Microsoft continues to invest in all things SharePoint and Office 365 and these innovations are accelerating in many instances.
You need to prepare for the future and what's coming. Get off InfoPath. Invest in learning PowerApps and Flow. Get some governance in place and get ahead of the sprawl that will happen from everyone creating Groups and Teams.
Do some research and learn what security and governance features are available to you in Office 365
You don't have to do anything today. Don't panic. Take a breath, learn about what's coming and how it might affect you. Then create a plan.
Still concerned? Confused? A little leery? Not to turn this into a sales pitch, but that's what we are here for. Contact us today with your concerns or questions and we'll help get you pointed in the right direction.
Resources and Links
If you missed the SharePoint Summit you can watch the recording at https://aka.ms/SharePointSummit.
Also, for a great summary of all the new features that were rolled out check out Benjamin Niaulin's blog post: A New and Mature SharePoint: 2017 Roadmap
And here are some videos for deeper dives into the information presented during the Summit: