As a daily continuous end user of the Microsoft Office Suite within Office 365 + SharePoint Online, I've experienced my fair share of third party tools-- anything to make my day more efficient, right? One that has really stood out over the years is the SharePoint application, harmon.ie. I specifically use this app for storing, sharing, and even editing documents in Microsoft Outlook.
I'm an account manager with a technical background that flirts with the "competent" level on a regular basis; harmon.ie is one of the easier apps to set up and subsequently use that I've utilized in the Office 365/SharePoint Online space. I'll walk you through what harmon.ie is and how it can add value to you and your organization.
So, harmon.ie (yep, all lowercase)- what is it?
I won't recreate the wheel here since the harmon.ie site does a solid job of identifying their own: harmon.ie Email brings together all your Microsoft collaboration tools into a single screen experience right in Outlook or Notes, on your desktop. Business users (just like me!) can share documents and collaborate with colleagues using SharePoint/Office 365, OneDrive for Business, Office Online, Lync, email, and Yammer… all with a single app.
As someone who uploads and shares documents as part of the daily ritual of my role, I specifically work within harmon.ie as an app in Outlook. There are some great screen shots here that lays out what that looks like similar to my own set up.
How do I set it up?
I utilize it in my Outlook 2013 set up. As you can see, here it is in my top navigation:
To link a SharePoint site like I did "Marketing" above, simply select the dropdown arrow next to the Home icon "Add Site", then fill in your Microsoft credentials
Click OK. You should then be able to navigate the site within the app in Outlook a la the screenshot in Step 3.
How does it add value to my organization?
To understand just how helpful this app has been, I'll walk you through a step by step of my pre- and post- harmon.ie processes. Here is an example of receiving a signed statement of work (pdf or Word document) from a client in my sales role.
Pre-harmon.ie
Receive email with document attached
Right Click "Save As" document in Outlook
Save to OneDrive or Desktop
Open Chrome
Go to Office 365
Open SharePoint Online
Go to Sales site within SharePoint
Go to the correct Client Document Set
Go to Upload File and then Browse
Find newly saved Document
Upload File
Right Click "Properties"
Select appropriate Content types
Click Save
As you can see, a lot of clicking and navigating and not a lot of fun. The word "tedious'' comes to mind.
Now, let's see what the process looks like after I've downloaded the app.
Post-harmon.ie
Receive email with document attached
Use harmon.ie's drag and drop functionality within Outlook to place document within the linked SharePoint site (as outlined under "How do I set it up?")
Right Click document "Edit Properties"
Select appropriate Content types
Click Save
And just like that, 9 steps eliminated.
Here is a screenshot of what a SharePoint site looks like in Outlook via the app. There are subsites, document libraries, and lists (not shown below). You should see your site in full: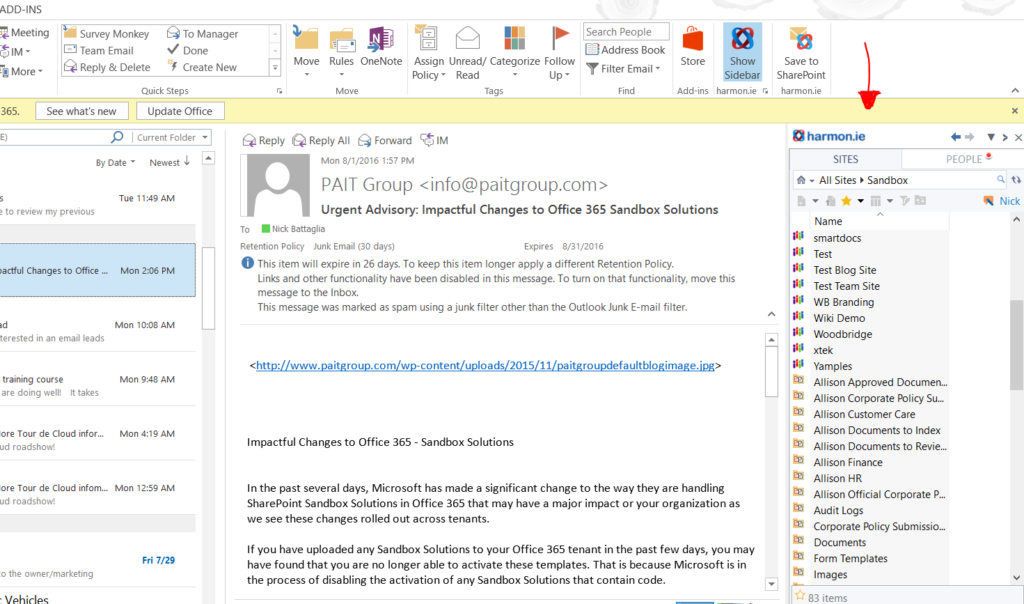 This is only the tip of the iceberg-- the app offers a lot more functionality too! The harmon.ie site is filled with additional great information on benefits and features, screenshots and more.
For more information on any helpers on SharePoint-- whether that be third party apps, implementations, support, mentoring...you name it-- we have you covered. You can reach out to us at info@paitgroup.com!