One of my favorite features in SharePoint is the ability to easily invite external users into my SharePoint environment. If you've ever had to deal with this in an on premises environment I'm here to tell you, life has gotten so much better.
SharePoint Online lets us decide which site collections should be allowed to host external users. There is also a choice for how we share with our external folks.
Enabling External Sharing
The first step is to take a look in the SharePoint Admin panel and see if Sharing is enables on your site collection. If it's not, this is where we can enable it.
To enable external sharing in a particular site collection, navigate to the SharePoint Administration Panel. Select the site collection where external sharing is needed then click Sharing on the ribbon.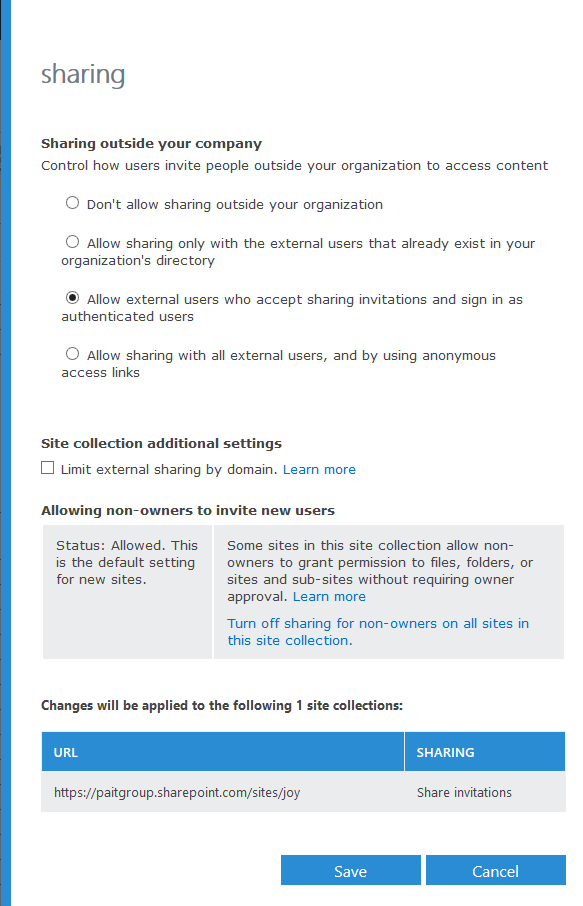 Select the sharing setings the best meet your needs.
"Allow external users who accept sharing invitations and sign in as authenticated users" is the most commonly selected option.
Click save to commit your changes to the selected site collection.
If your site collection sharing option is set to "Only allow sharing with external users already in the directory" external users must be set up as B2B external collaborators and invitations must be sent by an administrator from Azure Active Directory.
If you allow sharing by using anonymous access links, anyone with a link can view or edit the information.
Inviting External Users to Your Site
Once you're enabled sharing on your site collection you can now invite external users.
Navigate to the site's Site Permissions (Site Settings à Site Permissions) page and choose the group you want to add external users to.
Note the message reminding you that this user is outside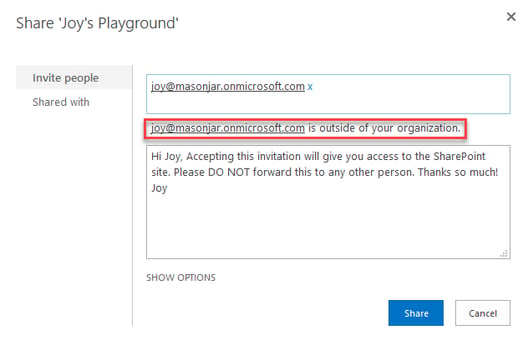 of your organization.

It's a good idea to include a message with the invitation reminding
the user not to forward this to another user.
If an invitation is forwarded to and accepted by another user, SharePoint will associate that user with the original email address. This can cause significant confusion and frustration down the road.
Always advise your invitees NOT to forward invitations to other users.
The invitation to your external user will look like this: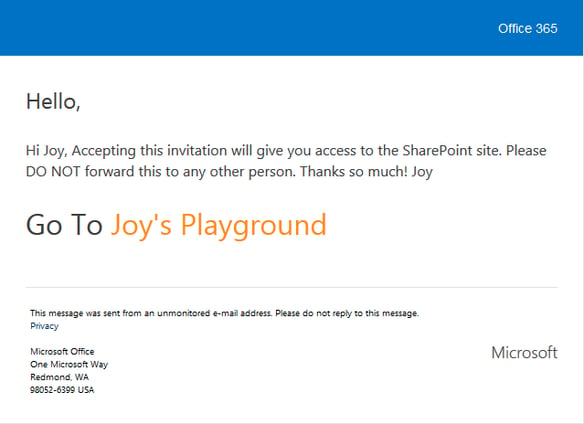 Once they've accepted the invitation you'll be able to see and manage your external users in the SharePoint group, just like your internal users. External users and collaborators can be managed from within Azure Ad once invitations have been accepted.

Once your external users are in the appropriate SharePoint groups they can interact and contribute with the SharePoint site collection, according to group permissions, as if they were internal users.