Short answer…Absolutely Not.
Of course, I have a much longer winded answer for you to explain myself. Right now, a lot of people are floating this idea because we are all (rightfully) in love with Microsoft Teams as a platform. Aren't we all thankful for the cloud as we gratefully sit and work from home while we wait this pandemic out? If you're someone considering abandoning your Intranet plans now that you have Teams, I think you're asking the right questions, but we should walk through why using Teams for all-the-things isn't the answer either.
Teams is Taking Over
Microsoft Teams was slowly taking over the cloud-based collaboration space prior to the COVID lockdown. Once the lockdown hit and millions were suddenly working from home, Microsoft says they deployed in 2 months what they previously projected over 2 years. That's a lot of remote productivity! Meanwhile, what I can tell you is that PAIT Group saw a number of Intranet projects go on hold while our Teams training and deployment spiked. I found that interesting, because while I understood the need to get off of file shares and work more effectively online, I didn't see this as being a time where formal communications dropped off. In fact, we need to be able to distinguish the difference between formal and casual communications now more than ever.
How could you ensure everyone saw a really important message if it ends up buried in a sea of casual communications on Teams?
Are they still sending emails?
Asking the Right Questions
I'll admit, I really thought it might be the end of the requests for building an Intranet the way the interest dropped off a cliff. I was debating this very article and how to go fight for why I believe the separation of Teams and a SharePoint Intranet was so important. What happened was that our customers walked themselves right back into it on their own.
We started hearing these questions:
How do I communicate with ALL of my users at one time in Teams?

Can I create a "read only" Team? How do I lock down the documents I don't want them to modify? Like policies and procedures, and health care benefits?

How can I keep track of all the conversations happening in a large Team?
This approach is trying to fit a square peg into a round hole. You know what Teams does well and what it's meant for? Collaboration. Working together. CoAuthoring. Small group conversation. You know what it doesn't do well? Publish information! There's a reason everyone has contribute access as a member in Teams. There's a reason you can do read only access in SharePoint. There's still a STRONG need for SharePoint Intranets and it's precisely to address the questions you see listed above.
If we were to use XMind to outline our Microsoft 365 architecture, a simple example might look something like this. This should look familiar!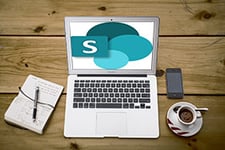 Our basic approach to architecture hasn't changed, see my article for more information: https://www.paitgroup.com/blog/modernizing-your-approach-to-site-architecture-in-sharepoint-and-office-365
Ok, for those of you who think your users will "never go to the SharePoint home page" if it's not included in Teams….. I'm going to challenge you for a moment.
Have you placed valuable content out there?
Are you updating your announcements on a regular basis or are you still sending emails?
If going out to your SharePoint Intranet is valuable to your employees, they WILL use it, even if it means leaving Teams to do it. Not to mention you can easily create a link from Teams to shoot them over to the Home Site as well. They are finding their HR benefits information, their published policies and procedures, and their daily announcements somewhere, it might as well be on your well-controlled and easily accessible (mobile-friendly!) SharePoint Intranet.

For those who still don't buy into this, check out Live Tiles – they can integrate your home page right into Teams. https://www.livetiles.nyc/
So, there you have it. My (very) strong opinion that SharePoint Intranets aren't going anywhere. There's room for SharePoint AND Teams!
Your SharePoint Intranet is the perfect place to:
Publish corporate-wide announcements

Right now this might include a special page for COVID announcements, but in the future could target any critical company-wide information



Publish the "final" version of documents like policies and standard operating procedures





Roll up news, events, and documents across your Intranet hub – this is especially helpful if you have a "parent" company with individual companies that roll up underneath





Create a landing page and a launch point for all of your applications across the organization





Take advantage of Home Sites, Hubs, and modern site templates for easy access to critical content, anywhere, any time
Modernizing your legacy Intranet and keeping clear and consistent communications to your employees has never been more important than it is today. Make the most out of your Microsoft 365 investment and get your SharePoint Intranet up and running side-by-side with Microsoft Teams. I promise, this IS a best practice!
For more information, check out my podcast with Richard on Run As Radio here: http://www.runasradio.com/default.aspx?ShowNum=681