Microsoft Teams combines access to the resources necessary to perform job functions along with the ability to collaborate with colleagues in a centralized manner, making it the workplace communication hub. Many believe this access is limited to tools inside the Microsoft 365 stack. This is a limited view of Microsoft Teams' capabilities. The communication platform supports 3rd party integrations that extend its impact on streamlining productivity and the overall employee experience.
To demonstrate what is possible via 3rd party integrations, here are examples of five applications and what they can do in Microsoft Teams:
Companies that utilize ADP's payroll services can improve employee experiences by giving employees a way to easily and quickly access critical personal data, such as pay statements, deductions, PTO balance, and retirement. ADP's Virtual Assistant integrates with Microsoft Teams and gives employees control of their privacy with the ability to review permissions. Continue to reduce the number of HR department interruptions by giving employees easy access to their personal information.
2. Trello
For those unfamiliar, Trello is a collaboration tool that organizes projects into boards. These boards create a picturesque view of open projects and identify key players as well as the status of tasks inside the process. You can incorporate this beautiful project visual along with other integration features right inside of Microsoft Teams.
Survey Monkey's integration allows real-time feedback with quizzes, polls, and pre-built surveys inside Microsoft Teams. Coworkers can get updates by establishing notifications for new survey responses or collaborator comments all right inside of Microsoft Teams.
4. Zendesk
Switching between applications to stay on top of customer support tickets can often leave you out of the communication loop or out of step when addressing the customer's needs. Microsoft Teams integration of Zendesk Support allows teams to collaborate and work through customer requests and problems right inside the communication hub. Thus keeping your staff connected in time on important customer support issues.
PAIT "My Links" is a personalized and role-based navigation application that seamlessly integrates with SharePoint, Microsoft Teams, and Viva Connections. A mobile-friendly solution that reduces user frustration by minimizing time wasted searching for critical resources and applications. PAIT "My Links" improves the employee experience while adding a dose of personalization.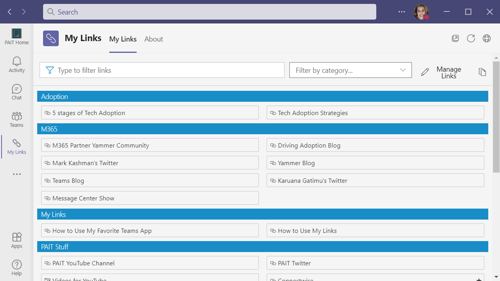 Are you using Microsoft Teams and would like to see if an application your company utilizes can seamlessly integrate like the ones mentioned above?
Or
Do you use one of the applications mentioned earlier and would like support in setting up the integration?
Reach out to one of our Modern Workplace Specialists who will get you set up on an improved path toward smooth and continuous collaboration.