Are you tired of sorting through the waffle every time you want to open a different Office 365 app? Well guess what; you don't have to! There's a nifty little trick that you can use to pin your frequently used apps to the Nav bar in Office 365.
Yesterday, I had the opportunity to attend a Microsoft Roadshow in Oklahoma City and the topic was the Surface Hub. Oh. My. Goodness. It's a whiteboard with an infinite canvas. You can draw in various colors of ink, pinch or stretch the size, scroll to the left, right, up, down… as much as you need! All while broadcasting this over Skype for business, if you have remote folks who need to be involved.
To employ this wonderful bit of usefulness simply open the App Launcher aka waffle and either click on the ellipsis or, if you're old-school like me, right click the tile.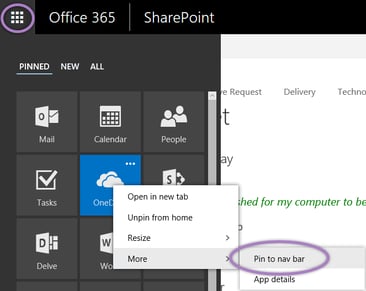 Then, simply select More > Pin to nav bar.


As you can see, I've pinned OneDrive for Business, Planner, and Delve to my Nav Bar.
Before you run off to pin all the apps up there you should know, that three is the limit. Just like genies only give three wishes, O365 only lets you pin three apps to the Nav Bar.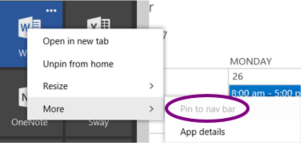 When you try to pin number four you'll notice that the option is greyed out.
When you decide it's time to switch out the apps you've pinned you can either right click the app on the Nav Bar and unpin it:

Or you can unpin an app by following the same steps in the App Launcher that were used to pin. Notice the option is now to Unpin from nav bar.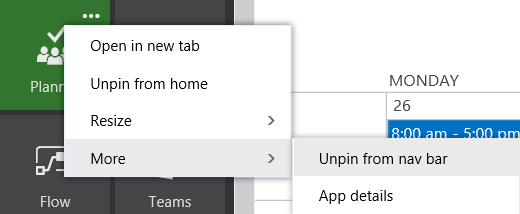 So, go pick your three favorite, most used apps and get them pinned!