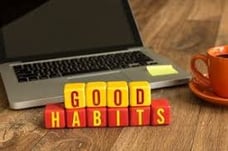 For decades we have been trying to find ways to improve our work performance. There are billions of self-help books and articles on the subject. As our work continues to evolve, we also need to examine new ways and methods that will result in better work habits.
Recognizing this challenge, Microsoft introduced Microsoft Viva Insights. One of the four components of the newly released employee experience software, Microsoft Viva. Insights guide individuals with recommendations on how they can do their best work.
Let's dig into five ways you can utilize Viva Insights that will result in better work habits.
1. Time Management and Focus
Almost a year ago, my eyes were opened to the ineffectiveness of multitasking. In a PAIT Group & JoyofSharePoint webinar, Driving Home User Adoption of Microsoft 365 in the Modern Workplace, Joy Apple & Richard Calderon interviewed Microsoft Modern Collaboration Architecture expert Rishi Nicolai. At one point in the conversation, Rishi dove into how attention works and the impact distractions have on productivity, especially when working on complex projects.
Inside Viva Insights is a protect time tab that shows you available time in your day where you can schedule time to focus on those complex projects without interruption. During this protected time, your status will be set to focusing (aka do not disturb). Only urgent notification will surface from priority contacts during this blocked time.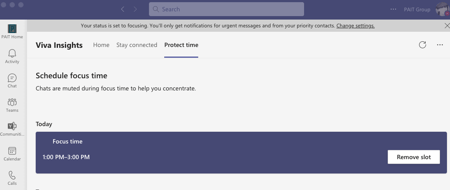 2. Staying Connected
Viva Insights Stay Connected tab suggests ways to remain on top of collaborated efforts, whether in meetings, tasks, or reminders to stay on top of collaborated content. Inside the Stay Connected tab, you can pin important contacts, and those pinned will appear as a higher priority at the top of the page.
The stay connected tab can help you nurture your professional network with one-on-one meeting reminders. Identify the colleague(s) you wish to enrich your professional connection and select the reminder frequency. Insights will pay attention to your meetings with these individuals and send you a reminder if one hasn't taken place in a while. A bonus is if you have solidified a one-on-one meeting and a conflict arises, Insights will help with rescheduling options.
3. Colleague/Coworker Recognition - Sending Praise
Part of staying connected with your professional network is recognizing when they do great work. This year PAIT Group communicated the importance of the power of praise and how to accomplish this using both Teams and Yammer in a blog post. Ultimately positive recognition when well-deserved results in increased engagement and productivity. Viva Insights offers a reminder within the home tab to send out such well-deserved gratitude.
4. Integration with Headspace for meditation
Microsoft has partnered up with Headspace, the meditation anytime anywhere application, to access select meditations and focus music. Throughout your workday, you take a few moments to go to Viva Insights to reduce stress and increase focus. The following are some Headspace meditation options currently available through Viva Insights:
Body Scan

Focus

Presentations

Stressed

Listening to Others

Ending your day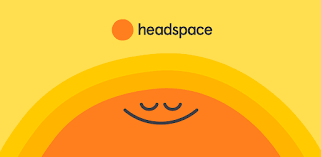 5. To-do list - Microsoft To-do
On the Viva Insights home page, you will find tasks in your To-Do list that are due or have a reminder for that day. For more information on the benefits of Microsoft To-Do, check out PAIT Group's webinar, led by organizational expert Richard Calderon, on taming that never-ending "to-Do" list with Microsoft To-Do.
Viva Insights is the next step in self-improvement in the workplace. No matter where your organization is in its workplace strategy journey, you can leverage these tools to stay connected with colleagues globally, stay on task, establish a balanced schedule with focus, and accomplish all of this with meditation resources at your fingertips.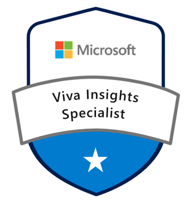 Gain deeper knowledge of Viva Insights by connecting with PAIT Group's Stephanie Donahue. She advanced her knowledge of the application and can provide you with:
Guidance on defining business problems and goals, and aligning them to Viva Insights capabilities

Leverage the recommended sales flow

Discuss the use of Workplace Analytics to generate quick insights using queries and PowerBI templates

Design action plans that inform operational change.
In addition, if you and your organization are looking for guidance on leveraging Microsoft Teams, Microsoft 365, and Microsoft Viva to streamline your organization's communication and collaboration strategy, connect with a Modern Workplace Strategist today, and we can help.