Just yesterday, I was running a discovery workshop with a customer. The purpose of this workshop we run, is to discuss pain points within the organization and then we later map those pain points to solutions in Office 365. When I asked him to list his top 3 pain points, he says to me:
Reduce my email clutter
Reduce my email clutter
Reduce my email clutter
Now, he was joking of course! He has other priorities too – but the reality is, this IS a significant issue. How does anyone manage their sanity at work with a single inbox that is serving about 15 different business processes? He's not the only one with this challenge. Sometimes, even when presented with a better solution, we revert to what we know and what we are comfortable with. I'm a "zero inbox" person myself and ironically, I've found that my parents and my sister and I are all fanatical about this aspect of our careers. We all laugh at our shared quirky obsession with keeping email organized. The reality is that most people haven't been granted this 'inbox organization' gene, but I promise I can help you anyway!
First – Let's talk about the easy button….
I hate to pitch third party tools first. I really do – I've worked for small companies my entire career and it's truly a luxury to have a third-party tool. BUT. This tool is only $150/year and let me tell you, I would gladly put a personal credit card out for this one if I had to. [note: we do not have a partnership, I receive no commissions for saying this]. Boomerang for Outlook has changed my work life – the addiction is real!

Here's the key challenge for me – when I send an email, I'm often waiting on a response. How often does someone forget to respond to you because their inbox is slammed too? No one wants to look bad for forgetting to relay an answer to your boss, a vendor, or your customer. I know you've all tried about 15 different task tracking solutions too and yet the struggle continues.
Here's the solution - Using Boomerang, I can set a reminder date on that email I'm sending and if the person doesn't respond to me, it brings the email back to my inbox (aka. It boomerangs….now you're following!) Why is this a big deal? I don't have to track this via a separate task list program, and I don't have to let an email sit in my inbox, so I don't forget about needing that response. This reminder hits me where I live all day – my inbox, which I watch like a hawk. This means a clean inbox until I absolutely have to deal with it again and then it's front and center when it's important. If the person does respond, boomerang just tucks it away in my sent items where it belongs and never bothers me again. This is a game changer! Confession – I have 25 boomerang reminders set up and < 20 emails in my inbox, all of which are outstanding tasks that need to be addressed by me. The rest of the emails are ***deleted*** when I don't need them anymore, but that's another cleanup story isn't it 😊
Second – Upload to OneDrive, Teams, and Groups from Outlook
Ok, now that we have your inbox down to a manageable level…I want to tell you about brand-new functionality that has been added to Outlook. I'm so excited for this!
Outlook now provides an alternative to "Save as" for your email attachments. Introducing…. "Upload". No more hunting for that URL you need on the classic "Save as" explorer view window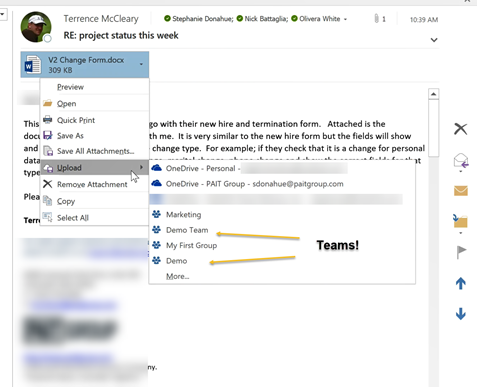 Even better…..here's the result. The email attachment will track that it's been uploaded to the cloud AND we now have the option to "Open File Location" from the email. No more document attachments lost in a sea of emails. No more documents saved down to the desktop and then uploaded to SharePoint/Teams. With our documents securely saved in a place others can find it, we can set our boomerang reminders or just delete the email and get it out of the way!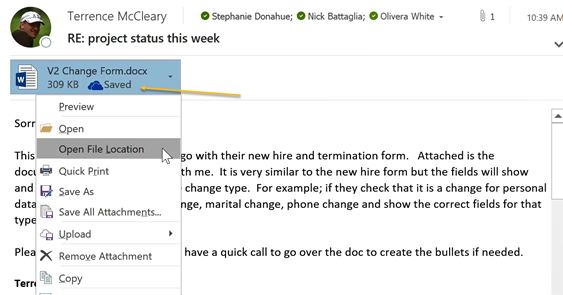 The only caveat I have, is the fact that the Teams only allow you to save to the main channel for now. I'm hopeful that will change over time.
Third – and this one is a big one: Move your review processes into SharePoint
Now that you've saved your documents into SharePoint or Teams, you can use Microsoft Flow to launch approvals. I'm not talking about a big, complicated, formal workflow process. I'm talking about a simple – "Hey can you review this for me quick?" kind of thing. You don't have to wait on IT to build it for you and you don't have to keep attaching documents to emails for review/approval.
To launch a quick "Request sign-off" workflow
Open your document library in SharePoint
Select your document so that the red check shows to the left of your document
Select the Flow Drop-down
Notice the "Request Sign-off" from the menu is now available to select
Click the "Continue" button
Add your Approver in the People selector
Click "Run flow"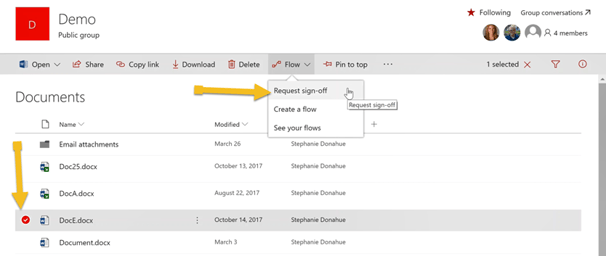 Now you have set your review process in motion: your document is still in SharePoint (one source of the truth) and your approval status can be tracked in the library.

Final thoughts
Whether you purchase a third-party tool or use out of the box functionality, you can take simple steps to improve the way you work. It's worth mentioning that it does take WORK – there is effort needed here, not only to learn new ways of doing things, but also to influence change in the way others work with you as well. If you need additional support, make sure to reach out to your IT, communications, and training departments to help you move the needle towards more effective collaboration at your organization. For more thoughts on changing culture, see my article here: https://info.paitgroup.com/blog/10-steps-to-driving-organizational-change
There you go! Three ways to reduce the email clutter in your inbox – good luck at tackling those inboxes.